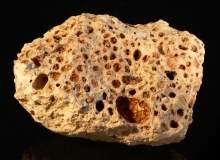 Geologist Dr György Komlóssy of Budapest, Hungary, says, "The petrographical definition of bauxite is a chemical weathering product, an ore that contains a minimum of 50% of alumina hydroxides. In order for the bauxite to be designated commercial grade, extracting the alumnia must be economical."
More than 90% of the world's bauxite reserves, called laterite bauxites (derived from alumo-silicates), are concentrated in tropical and subtropical regions from approximately 60 million years ago. Large deposits are found in Australia, South-East Asia, South America and India. They are located beneath the surface and are extracted through the open pit mining method. In the Caribbean, as well as in Southern Europe, bauxite is found in smaller pocket deposits where they accumulated on carbonatic rocks to form karstic bauxites. Interlayered deposits occur in Hungary, China, Russia, Brazil, Suriname, the Unites States and the Mediterranean.
The goal: deliver bauxite
Although demands for bauxite are growing, Komlóssy is optimistic about its continued availability. He says, "Bauxite deposits might be about 70 billion tonnes. We'd probably be able to process about half of that – the rest would be too difficult to get to without significant improvement of the infrastructure. The world consumed about 260 to 270 metric tonnes last year. At that rate of consumption, we should be able to meet our demands for the next 250-300 years."
The process for mining bauxite is not complex. Unlike ores from base metals, the grade of most bauxite found through mining is acceptable. Bauxites of Brazil, South-East Asia, as well as some types found in Australia and China, need up-grading from the crude ore. This is achieved by washing and screening, and then the super-fine fractions (clayey components) are removed. The yield of the concentrate (industrial grade ore) is between 40 and 60%.
---
---
Geospatial data is the bedrock of mining, and geographic information systems (GIS) are making this data clearer and more detailed.
---
The formula is straightforward – bauxite is mined, beneficiated if needed or possible, and then refined into alumina, which is then smelted to make aluminium. It takes 5 to 7 metric tonnes of bauxite to produce 2 metric tonnes of alumina, which yields 1 metric ton of aluminium.
The client: China
China has awakened from an agrarian land once farmed by peasants to become an emerging economic superpower, writing economic history as the world's leading consumer. Now the world's most populous country, China has far-reaching plans to move more than 250 million residents from their small countryside villages to newly built cities and towns within the next decade or so.
The government is replacing small rural homes with hundreds of thousands of high-rise apartments and providing improvements to transportation and other basic infrastructure. In addition, hundreds of thousands of factories and office buildings are being built. As a result of this intense construction, steel and aluminium consumption has climbed to levels not seen in any other country.
China is both a producer and a growing consumer of aluminium and bauxite. It leads the world in terms of annual aluminium production by a substantial margin, and is the third largest bauxite producer behind Australia and Brazil. "China consumes about 80 metric tonnes of bauxite per year," says Komlóssy.
However, China's domestic bauxite reserves are becoming depleted and all grades of bauxite are declining. As the country continues to grow, requirements for imported bauxite will expand rapidly over the next decade.
""China consumes about 80 metric tonnes of bauxite per year.""
In the past, Indonesia was China's top bauxite supplier, accounting for about 80% of the country's bauxite imports, followed by Australia with around 20% and India at 1%. As of 13 January 2014, Indonesia's plan to ban the export of mineral ores, including bauxite, will take effect. After the ban was declared, the FOB (free on board) bauxite price immediately increased by around US$10, which resulted in a good position in the world trade for bauxite exporters.
With its reserves dwindling and importation from Indonesia blocked, one of the key concerns of the aluminium industry is where China is going to get its bauxite. Several countries have to be considered as China evaluates its options.
The contenders
Due to Indonesia's ban on exports of bauxite, Jamaica is now seeing a revival of interest from other countries. However, the Caribbean country says its government will no longer be seeking to enter into deals with any country solely for the export of Jamaica's bauxite. The government has announced they will no longer be seeking to enter into deals without arrangements for expanding or implementing a new refinery. It remains to be seen whether China will choose to accept the country's new requirements.
A draft mining plan for bauxite was approved by the Vietnamese government in 2007. The Vietnam National Coal and Mining Industries Group (Vinacomin) laid out a plan for six bauxite mining projects covering more than 1800 square kilometres in Vietnam's mountainous Central Highlands.
Vietnam has some 5.5 billion tonnes of crude ore bauxite reserves, which equals 1.4 billion tonnes of concentrate. The Chinese mining company, Chalco, has received contracts for the first two processing plants. Dr Nguyen Thanh Son, Director of the Hong River Delta Project Management Unit under Vinacomin, said that these first two plants are not meeting performance standards.
Built in 2008, the Tan Rai bauxite plant is not likely to achieve its production goals, while the other plant, Nhan Co, which was built in 2010, is performing at lower levels than Tan Rai and is likely to generate even more loss. Son added that, for that reason, the Nhan Co bauxite plant should be closed, thereby limiting potential availability to China.
---
---
Kenya is hoping to fast-track its nascent mining industry with a regulatory overhaul and a concerted effort to attract investment.
---
Australia produces about 40% of the world's bauxite needs. Chinese imports from Australia rose 57% in the first half of 2013 to 6.7 million tons/mt per year. All has not been perfect, however. Both Chalco of China and Rio Tinto were expected to bid to mine the $20 billion Aurukum bauxite deposit at Cape York, Australia, but have pulled out.
The move was surprising, especially since Chalco had previously held the lease and was willing to develop the resource. However, Chalco wanted to mine without building a smelter, a requirement the Queensland government is now prioritising when it comes to approving mining projects.
Since May 2012, China has imported several cargoes from Brazil, the world's third-largest bauxite supplier, which has historically exported mainly to the Americas and Europe.
In late 2012, China's first cargoes of African bauxite started to arrive, with imports from Ghana, Guinea and Guyana now standing at 1 mt/year today. Chinese companies have exploration licenses in Guinea in relatively good positions. Mine development, including suitable transport routes to the existing railway needs a minimum of 3 years. These deposits are believed to be enough to supply China for a long time.
In the first half of 2013, imports from India reached 3.4 mt, from just 1.3 mt for the year 2012.China's diversification has increased the share of non-Indonesian suppliers and Chinese imports to 34% in the first half of 2013.
""The world consumed about 260 to 270 metric tonnes last year. At that rate of consumption, we should be able to meet our demands for the next 250-300 years.""
Who will be declared victor?
According to Komlóssy, the capacity of existing bauxite mines are unlikely to increase in such a measure as is required by China. As such, China needs a minimum of 3 years to put into operation its assets in Guinea or even those in Ghana.
Based on the current situation, it appears unlikely that any one country will be able to supply 100% of China's needs for bauxite – diversification will be key. For those countries willing and able to meet China's requirements, however, there will be expanding opportunities and potential new projects into the next decade and beyond.
Napoleon Bonaparte once said, "China is a sleeping giant. Let her sleep, for, when she wakes, she will move the world." The "sleeping giant" has indeed awakened and is moving the world.