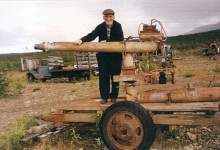 Mining lost a most remarkable figure this year with the passing of John Albert Miskovich at the age of 96. Born into a gold mining family, he worked the mines in Alaska in his summers as a young child and never looked back. As son to Alaska mining hall of fame inductee Peter Miskovich, he was of prime mining stock, and through his inventiveness and intuition in creating a water cannon called the Intelligiant he created a legacy that lives on today, not just in mining but also in firefighting, space exploration and countless other industrial endeavours.
Born to mining pioneer Peter and StanaMiskovichin Flat, Alaska, in 1918, ten years after travelling prospectors John A. Beaton and W.A Dikeman first struck gold in the area, Miskovichexperienced the boom in Alaskan gold mining first-hand. As a young boy, assisting his father at the mine, he would spend up to ten hours a day holding onto an 'old giant' water hose to wash away the dirt and debris of operations and enable those excavating to get on with their work.
It was the experience of so many long and tiring days fighting the forces of the water pressure that would inspire his greatest achievement. Recounting those early days, he wrote: "The high water pressure in the old giant would make it take off like a bucking bronco if the handle was ever let go." As he stood there "holding on for dear life and fighting mosquitoes", his mind was consumed by the recurring thought that there must be "a better way".
Making a miner's work easier
While work on his solution was temporarily delayed by America's entrance into World War II, where he served in the 807th Engineering Batallion from 1941 – 1945, he returned home more determined than ever to put his ideas into action. Undeterred by being refused a $5,000 loan by a Seattle banker, Miskovich built a prototype out of cast iron that used a curved pipe and swivel bearing joints to absorb the pressure and send it to the base of the contraption, releasing the operator from the stress and effort of taming the hose themselves.
---
---
From an underground bouncy castle wonderland to a relaxing health spa, defunct mines can, and are, being transformed into the most novel of tourist attractions.
---
Describing the development, he said: "As soon as I was discharged, I came back to Flat, and eventually I was able to make the giant operate automatically 24 hours a day. What it amounted to is really very simple. The old giant didn't have any ball bearings on its movements. I added ball bearings for both vertical and horizontal, and that made it possible to go to any number of drives: air, oil, water, electric. It opened up a whole new world."
In his book Forty Five Years of Geological Excellence, Joseph R. Wojcik wrote of encountering the Intelligiant: "John had rigged up a "giant", a nozzle to discharge a coherent stream of water such as had been used in the California days, with reversing hydraulic cylinders so that the nozzle swept back and forth across the material without direct monitoring."
Setting out on his own to seek industrial success
Certain of its industrial value, Miskovich cashed in his insurance policy and set out to sell the Intelligiant. He quickly found success in Florida, where the International Mineral Corporation of Chicago adopted the design for use at its phosphate operation. But it was in California at a meeting with the John Stang Manufacturing Company that things really took off. Impressed by his initial work, the company took him on as design application and consulting engineer and he led the design and development of around 150 different applications of the Intelligiant that went on to be used in military applications, the oil and gas sector and even the NASA space program.
Its most marked impact, though, was in fighting fires. Breaking with the tradition of brass built hoses, he developed a lighter, stainless steel hose that enabled firefighters to pump out 15,000 gallons of water a minute against the comparatively paltry 1,000 gallons previously possible. Widely adopted on fire trucks across the world and fire boats in New York and San Francisco, Miskovich took pride in his creation's contribution to "a new era in fire equipment".
Praise for the effectiveness of his design featured in a 1976 technical evaluation report for the US Department of Commerce on how to stop ice fog from suppressing cooling ponds at the Eielson AFB power plant in Alaska.
"Sure, I was successful when it came to mining gold, and for that I'm grateful. But the Intelligiant was much more personally rewarding."
In the report, engineer Terry McFadden wrote: "The rate of cylinder movement and the throw of each cylinder are adjustable, giving a very versatile spray program. The cylinders are driven by water from the pump which supplies the nozzle, so that a water pump is the only power source needed. The nozzle used is a firehose nozzle, giving the device good range and excellent coverage. A radius of 30m and a sweep of 90 degrees were obtainable with this unit, providing the best coverage of any spray technique used."
Through the success of the Intelligiant, Miskovichtravelled the world consulting on the various different ways the technology was being applied. In an interview with a local paper, he remarked that one of the proudest moments of his life was seeing it commemorated on an English stamp as part of a series to mark engineering achievements.
Returning to where it all began
Despite the lure of global travel on offer though, he returned to Flat with his wife Mary, who he met in California while working on early models, to raise a family and continue theMiskovich mining dynasty, while keeping a second home in California. With four children in tow, he continued to mine his Discovery claim for gold.
As the years went on, the family would spend more and more of the year in California, but even though Flat had been deserted by all others on the grounds that its gold deposits had all but gone, they would return each April to the 'ghost town'. He also continued his efforts to reform the mining industry for the better by campaigning for a more sustainable approach to mineral extraction.
Reflecting on his life and experiences in an interview with journalist Sharon Bushell, he said: "All in all, things have turned out well for me. Sure, I was successful when it came to mining gold, and for that I'm grateful. But the Intelligiant was much more personally rewarding; that was a real accomplishment."
John Albert Miskovich died on 22 August 2014, but his legacy lives on throughout the world across many industries, with the innovation of the Intelligiant continuing to be applied. In the modern era of billion dollar corporations and huge research and development budgets, it's worth remembering just how much can be achieved from a desire to ease one's own workload.