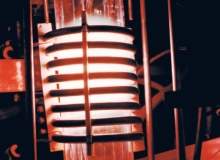 New radio frequency plasma technology, which heats complex ores to over 8,000 degrees Celsius, freeing up hidden precious metals, could completely change the face of the mining industry, boosting yields of metals such as gold, silver and platinum from complex ores by jaw-dropping figures.
Complex ores such as zinc, nickel , copper and lead often conceal 'latent' precious metals, which conventional metallurgy cannot uncover or extract in any significant quantity, as they are 'encapsulated' by the ores' complex structures. But this may not prove to be a problem for much longer – if technology created by US-based Toss Plasma Technologies (TPT) is as effective as recent assays carried out by the company have suggested.
TPT's new radio frequency (RF) plasma torch, developed over six years by scientist Dr George Paskalov, works by applying ultra-high temperatures of between 8,000-12,000 degrees Celsius to complex ores, thus breaking them down and freeing up any precious metals contained within.
The processed and extracted metals are mixed in plasma powder form, which can be recovered and purified through conventional extraction and refining techniques. According to TPT, the resulting precious metal powder can then fetch up to 96% of the London Metals Exchange price.
Tests carried out by the company have shown incredible results when compared to conventional metallurgical processes. For example, TPT's latest assay results, dated 11 November 2013, from its Myanmar tungsten ore samples, produced 1,500% more gold yield than traditional methods. While only 34g of gold had been found per metric ton before the application of the RF plasma torch; the new technology uncovered an astonishing 500g of the precious metal for the same weight of complex ore.
When scaled up to production level, this could equate to roughly $2m-$4m of income every quarter, according to TPT managing director Tony Heo.
---
---
Deloitte's global mining leader Phil Hopwood talks about resource nationalism, the mines of the future and why collaboration is key. .
---
The RF plasma torch: a long time coming
It all started back in 2003 when Paskalov, previously the Soviet Union's chief scientist for radio frequency plasma technology, decided to emigrate to the US and use his previous 20 years' experience in the sector to develop a system for stabilising complex ores for the mining industry.
"There are a number of applications for plasma technology, but Dr Paskalov picked precious metals because he believed it could have the biggest economic impact," Heo noted. Prior to this, he had been focused on researching and developing the technology for, among other things, satellite rocket engine simulation.
It hasn't been easy to get to the point where TPT can demonstrate that they have a viable technology for the mining sector, though – and not just because the complex technology took Paskalov over half a decade to develop. "It's taken a long time to explain to people how the technology works and have them believe it," Heo admitted. "From 2003, it took about six years of full development for the technology and, for several years after that, we spent our time sourcing complex ores that would be appropriate for use with our plasma systems."
So far, the company has conducted tests on complex ore samples from over 46 mines in China, in collaboration with several different independent laboratories and third parties, and the results have been more than compelling. "In some cases, we have seen as much as 3,000g of gold per metric ton," Heo remarked.
Initially, however, it really was a bit of a shot in the dark. "You can't see whether gold, silver or platinum have been encapsulated by complex ores until you process them," he explained. "The only way you can be sure is through a trial process. Then, if that shows good results, we test larger quantities and do more assays to be sure."
"With the numbers we're seeing, it could be quite a shock for the industry."
What's next for TPT?
Convincing assay results over the last few years have garnered interest from several mining operators around the world, according to Heo. "We have been getting increasing recognition and solicitations from companies in North America, India, Africa, and, to a lesser extent, Australia," he noted. "So, now, we are getting a lot of companies to submit their complex ores for processing and once we establish that there is good content, we can begin to explore business opportunities such as the purchase of our systems, joint ventures, sourcing of ores, or technical collaborations."
Scaling up, believes Heo, shouldn't be too much of a problem as TPT is already able to carry out day-to-day production at its pilot plant in Yamagata, Japan. "We believe we are the only company capable of the extraction of precious metals from complex ore on a production scale in the world at this point," he emphasised. "Currently, we can process several tons of concentrated ore per day on each system." There is also zero waste produced via this green technology.
The RF plasma torch really could be a game changer, Heo is keen to emphasise. "When using conventional methods, if you identify something as zinc or copper ore, you would mine it just for that particular metal," he explained.
"But now, companies can send samples to us to find out whether there are other precious metals encapsulated within them, and, if they do find high levels, it would change their entire mining profile in terms of economics and in terms of what to do with the mine. With the numbers we're seeing, it could be quite a shock for the industry!"