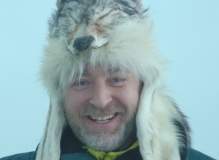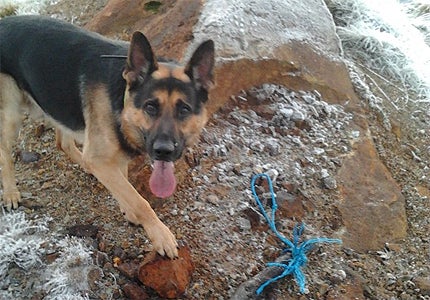 Berenice Baker: What is the history of working dogs in the mining industry?
Peter Bergman: In the 60s and 70s Sweden, Russia and Finland were the foremost players in the game of ore dogs, but they were only run by state agencies searching for nickel for the steel industry. The best people were considered to come came from Finland because they used just a geologist and an ore dog, and didn't need a separate dog trainer.
When the metal and steel industry went belly-up because of the financial crisis at the beginning of the 80s, these countries abandoned all exploration and this technique died out, more or less. I just finished my geology degree then but geologists couldn't get work anywhere, so I went into IT.
But I remembered all about ore dogs and I started experimenting with some dogs to see if they could do this. One year ago I started doing this professionally.
At what stage is your OreDog business?
PB: At the moment I'm recruiting people who will attend our one-year training camp in Sweden for OreDog drivers, where we have experts in different kinds of search. At the moment we have three dogs that are fully trained and certified, and we hope to have ten by autumn.
Other than nickel, what other metals can they find?
PB: The dogs can find all sorts of sulphide ore, whether it is zinc, copper or nickel, but we discovered they can also find oxide ore. We have just discovered a large deposit of arsenian pyrite, a gold ore, but every week we find they can sense a different type of metal in combination with sulphides.
Where in the world does OreDog operate?
PB: To date we have been concentrating on Sweden and Scandinavia, but we are setting up shop now in Arizona with the cooperation of an American company. We're considering expanding into China, middle Africa – Burundi, Angola – and we're looking into starting the first ore dog companies in Australia, Iraq and Iran.
"The dogs can find all sorts of sulphide ore, whether it is zinc, copper or nickel."
We can travel anywhere, but because of quarantine laws in some areas you need domestic dogs. Australia is a very dangerous area not suitable for the types of Arctic dogs that we have here. They can work in Russia, Scandinavia, Canada, Alaska, with no problem, and they can sleep outside in minus 30 degrees.
Those same dogs won't work as well when it's 50 degrees plus and you have poisonous snakes that they don't know what to do with. We're going to train dogs locally using ex-military experts who have been training bomb dogs, and because we work in areas where there may be land mines we can use those skills too.
Even when we are training we are looking at places where we find interesting prospects and build a resource we can sell to exploration companies, helping them find ore.
What breeds of dog do you use for sniffing out mineral deposits?
PB: I have a German Shepherd, but we have used the Australian working Koolie and the Malinois, which is a smaller police type dog. You can't use a Chihuahua; you have to have something that could work in the field, and not get eaten up by rats.
"[The dogs] can discover an ore body that is as much as 12m under the ground."
We don't have to use the same breeds as the police or military – for example, poodles are really good scent dogs, but maybe they don't look so professional…
We will provide German Shepherds for our staff from our own kennel of professional dogs that come from the police dog academy. But if a geologist wants to have their own dog, we will test them and see if they can do the job.
How do you go about training the dogs to work in mineral exploration?
PB: You train them to sense certain smells that come from ore. We take ore samples from different mines and areas where we find the ore, and then we train them on that. Right now my dog can sense 20 – 30 different types of ore. They can discover an ore body that is as much as 12m under the ground.
What happens after the dogs find a nickel, copper or gold ore deposit?
PB: We have just made a great discovery in north Sweden and we'll come back and do a proper search over the vast area where we have found boulders. We will locate exactly where the ore body is using the ore dogs, geology instruments and drilling, so we make a brief feasibility study to determine if it's a good resource, then we sell it to a mining company.
How do you see the OreDog business growing in the next couple of years?
PB: I expect we will have two or three daughter companies in Australia, South America and Africa. The company will have 200 to 300 employees and about 200 dogs, with each geologist having two or three dogs, all finding ore for exploration companies.
Do you have a projection of profits over the next few years?
PB: I would predict that people who invest in our company now will be very rich. We have our own tenements [the pegging or notification of exploration licences] and I would guess 80% of our income will come from selling off our resources and 20% will come from working for the company.
"We're going to train dogs locally using ex-military experts who have been training bomb dogs."
We will develop extended services using not just the ore dogs but also IT technology to improve the exploration process. We're also looking for investors, and we want to make at least 10% – 15% available for crowd-funding so ordinary people can invest in the company, not just big shots. We're only selling off 30% tops in the company and our staff will own a lot of it and also have a profit share.
It's quite a different type of company when it comes to our work policies. One third of our staff's time will be doing OreDog consulting for different companies, one third of the time will be training of the ore dogs and of themselves, and one third will be free for their own projects. It leaves a lot of time for people to discover their talents and do their own thing – sort of a Google way of working!
---
Related content
---
The future rocks: minerals that will shape our world
Minerals used to produce metals and non-metallic mineral raw materials could hold the key to mankind's survival. With the global population at seven billion and rising, Julian Turner talks to experts on both sides of the Atlantic about mining the minerals of the distant future.
Geo surveys: mineral exploration at the ends of the earth
The shape of survey systems and equipment seems poised for revolution. From satellite imaging and unmanned vehicles, to advances in underwater seismic acquisition, new developments are blossoming.
---