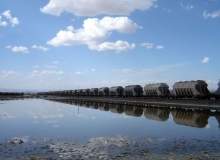 Despite its position as one of the largest economies in east and central Africa, Kenya is still worryingly reliant on just a handful of sectors for continued growth. The country's economic stronghold is the land itself – international tourism to Kenya's famous national parks dominates its services sector and agriculture accounts for around 22% of GDP, leaving Kenya exceedingly vulnerable to tourism downturns and poor farming conditions like the disastrous East African drought of 2011-12.
"Mining looks set to become a much larger part of Kenya's economic picture."
This economic vulnerability, which keeps much of Kenya's population in absolute poverty in spite of wider growth, has led to increasing efforts by the Kenyan government to diversify the country's sources of income. As well as nurturing the expansion of its manufacturing and financial services sectors, the government is also looking to take greater advantage of its mineral resources.
Mining and quarrying has thus far remained a relatively tiny industry in Kenya, with the sector – currently dominated by soda ash operations at Lake Magadi – contributing only 0.8% of Kenya's GDP. With plans in place to explore Kenya's untapped mining resources underway and the mining regulatory regime undergoing an overhaul, the sector looks set to become a much larger part of the country's economic picture.
But the development of a more extensive mining industry brings a host of complications, especially for a country with little existing infrastructure and a somewhat leaky licensing system. Kenya is looking to make itself an attractive destination for foreign investment to secure the expertise and financial backing necessary to pursue several major mining projects. Of course, with so many Kenyans still struggling to subsist, a delicate balance needs to be struck between attracting foreign corporate interest and the urgent need to bring real benefits to everyday citizens.
Kenya's resource potential
Many resource-rich developing countries, within Africa and outside it, have already gone through the tricky and sometimes painful process of negotiating how best to develop their nascent mining industries. That process is still new to Kenya, chiefly because few believed its soil held much of interest.
"The country has proven deposits of titanium, coal, gold and niobium."
That perception is changing, especially in the wake of President Uhuru Kenyatta assuming office after the general election in March 2013. The new, broadly pro-business government formed the country's first Ministry of Mining, led by Cabinet Secretary for Mining Najib Balala, to overhaul the country's mining policies to encourage investment and ensure the government and surrounding communities receive their fair share of the profits.
"The mineral resources sub-sector in Kenya is underdeveloped, resulting in the rate of economic growth not being in tandem with rate of growth of the manufacturing sector," the new ministry's website states. "The Government is therefore focused on an industrial revolution (raw material and industrial levels) that will create a strong manufacturing base and propel Kenya towards becoming Africa's industrial hub and hence boost the economic strength of the country. Discovery, development and management of minerals are key to this revolution."
Part of this new, concerted effort to push the mining industry forward is getting a clearer idea of Kenya's resource potential on a large scale. The country has proven deposits of titanium, coal, gold and niobium, but the extent and viability of these reserves requires more study.
"We have not done a proper airborne survey," said Balala in June. "We don't know what we have. We rely on the old mines of the 1940s, from the British time. Every day we are realising our neighbours have quite a number of resources, why not Kenya? We share the same greenstone belt, the Mozambique belt."
Overhauling Kenyan mining policy
One of the common stumbling blocks for mine development in developing countries is inefficiency and ad hoc decision-making within the host country's regulatory regime, which can scare off risk-averse investors and leave the country floundering for the necessary expertise and financial backing. This is a problem that has affected the development of Kenyan mining in the past due to an outdated Mining Act that has its roots in the British colonial era, which the Ministry of Mining is currently in the process of overhauling.
"The next step is developing Kenya's surprisingly abundant coal reserves."
As well as reforming the country's outdated mining policies to improve licensing transparency and shrink the government's discretionary powers, the Kenyatta government is also repealing a regulation introduced in 2012 by the last government, under which mining projects were required to have at least 35% domestic ownership. That figure has now been reduced to 10%, in the form of a free carrying stake in 'large' mining concessions for the government itself, which will create a state-owned company called the National Mining Corporation as a vehicle for joint venture participation.
The domestic ownership reduction might come across as a sop to investors at the expense of Kenyans, but the government's other significant legislative move redresses the balance somewhat. In August, Kenya increased royalties on a number of minerals, including raising the royalties on rare-earth minerals from 3% to 10%, while coal and gold royalties have been doubled to 8% and 5% respectively.
Naturally, the increases have not been well received by the mining investment community. "The rates proposed by government will make Kenya a very expensive destination for extraction of some minerals," said Monica Gichuhi, CEO of industry lobby group the Kenya Chamber of Mines (KCM), told Mining Weekly in November. "We all understand that government must benefit, the people of Kenya must benefit and the investor must also benefit from his investment. But we need royalty rates that will ensure Kenya does not become uncompetitive."
Balala, meanwhile, is not budging on royalties in the face of industry pressure. He argues that high royalties are necessary to ensure that local communities feel the benefits of new projects. He said that the increases would mean that Kenya's income from royalties would rise from just over $240,000 a year to $11.5m. The government is likely betting that the security of a reliable royalties system will offset the cost increases for mining companies. "We will know how many years before we review royalties, and not change the rules of the game in mid-stream," Balala said.
New projects
Central to the industry's development is the establishment of major projects to build momentum and validate Kenya as a destination for international mining investment. The first of these, Kenya's largest mine and a flagship project, is a leftover from the previous government. In October, Australia's Base Resources started operations at a $305m titanium ore mine in Kwale County, Kenya's southernmost region and a focal point for the country's big mineral push.
The project has suffered severe delays since 2006, the hold-ups attributed to financing issues, local compensation disputes and chaotic government oversight. With the mine now online and producing titanium ore containing ilmenite, rutile and zircon – due to start bulk exports to countries like the US and China in January 2014 – the project is the simultaneous embodiment of Kenya's new vision for mining and, with its delays, everything it is seeking to avoid in the future. KCM's Monica Gichuhi believes this project alone could take mining's share of Kenyan GDP from 0.8% to 1.8%.
The next step for the government is developing Kenya's surprisingly abundant coal reserves, both as a source of income and to fuel a domestic coal power boom. In keeping with the wider trend of Chinese collaboration with Africa on major projects, China's Fenxi Mining Group has been chosen to develop Blocks C and D of a coal mining area near Mwingi, around 150km east of Nairobi.
The deal, which will see the commercialisation of at least 400 million tonnes of coal valued at an estimated $40bn, was cleared to proceed earlier in December after remaining mired for several years in legal disputes. The Regional Institute for Social Enterprise (RISE), a Kenyan NGO that was trying to stop the concession, dropped its case in June 2013, paving the way for Fenxi start operating on Blocks C and D while the government considers selling licenses for other blocks. "It is time the coal project took off the ground," said RISE director Boniface Kaburu upon the withdrawal of the court challenge. "Kenya will benefit a great deal from the project and that is why we have decided to terminate the case."
In a sense, the Fenxi coal deal is another illustration of the tension that can exist between local, national and international interests. But despite the litigation and delays, the details of the project also seem to suggest a balance that might provide a glimpse of how the government might handle the planning of mining projects on a case-by-case basis in the future. Fenxi will pay $3m and $500,000 in concession fees for Blocks C and D respectively, while the government will take an 11% stake in the project, as well as a 23.6% share of gross revenue for Block C and 22.1% for Block D.
For local people, the government has agreed that necessary land for the project will be purchased at market price, and also made public the details of the project's Benefits Sharing Agreement to build local confidence. What the government will do with its 11% stake in the project is still undecided, but Kenya's Cabinet Secretary for Energy and Petroleum Davis Chirchir has suggested that "it could be a window for county-government ownership of the project". Perhaps, if the project's promises are met, it could point to a path for Kenya to have its cake and eat it by attracting investment, developing its nascent mining industry and providing much-needed economic benefits for its people.
Related content
---
Rail infrastructure is often crucial for mining operations to become effective and economically viable.
Reduced commodity prices, labour wage wars and shaking investor confidence have all left South Africa's mining industry in jeopardy.
---