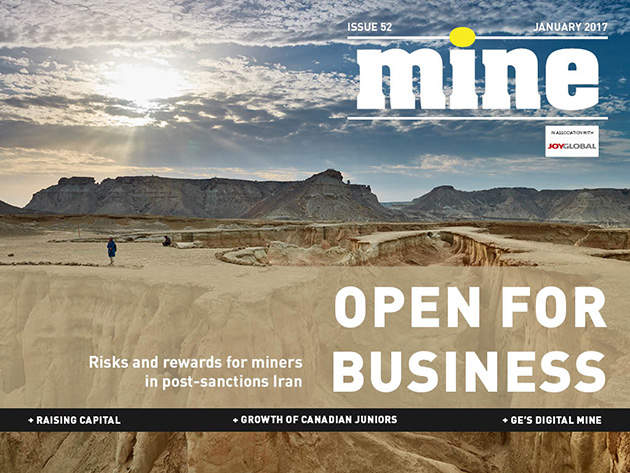 As the new year begins, we take a look at what it will bring for mining investors. Raising capital continues to be an issue, falling about 10% year on year, but could 2017 be a turning point? We ask the experts for their forecasts. And following a recent PwC report, we explore if the market capitalisation of Canada's top 100 junior miners, which jumped 138% to C$11.4bn over past year, is a blip on the radar or a sign up an upturn ahead.
As Iran recovers from the lifting of many Western sanctions, opening up the country's massive resource potential as well as a new, growing market, we take a look at the risks and rewards for investors looking to do business in the country's emerging mining industry.
Also in this issue, we explore the changes ahead for Caterpillar as CEO Doug Oberhelman retires, take a look at GE's new Digital Mine suite, and find out how the ICMM's' new industry guidelines aim to support the UN's Sustainable Development Goals.
Read MINE magazine free on iPad: download our app to read the latest issue and browse our back issues.
In this issue
Iran: Open for Business
Post-sanctions Iran represents a vast opportunity for foreign investors, but it's not without challenges. Heidi Vella assesses the risks and rewards and the potential impact of the Trump effect.
Read the article.
Growing out of the Capital Crunch
For five years mining companies have been hard pressed to maintain liquidity. Nnamdi Anyadike asks whether these capital constraints could be loosened in 2017.
Read the article.
A Good Year
Canada's junior miners have seen a recent surge in market value, but can the sector's recovery be sustained? Elly Earls reports.
Read the article.
Caterpillar Changes Course
Caterpillar chairman and CEO Doug Oberhelman is retiring, having led the company through arguably the most turbulent period in its 91-year history. Julian Turner assesses his legacy and asks how the world's leading manufacturer of mining equipment plans to survive the industry downturn.
Read the article.
Inside the Digital Mine
GE has created a suite of applications that allows for real-time monitoring across a mine's operations to improve predictive maintenance, mineral recovery and optimisation. Molly Lempriere takes a closer look at the Digital Mine.
Read the article.
Supporting Sustainable Development
The International Council on Mining and Metals has released new guidance on how miners can support the UN's Sustainable Development Goals. Molly Lempriere takes a look at this renewed push for sustainability in mining.
Read the article.
In the next issue
BHP Billiton and Hancock Prospecting are in talks with Ecuadorian officials on a potential entry into mining and exploration projects. The move by one of the biggest mining outifts has shone a spotlight on Ecuador, prompting speculation about which other companies may also be interested. We find out more.
Also in the next issue, we take a look at Canada's potential plan to appoint a human rights ombudsman to monitor the country's mining companies operating abroad, consider how many other minerals may still be out there following the discovery of a new mineral in Tanzania, and profile a new process that aims to neutralise acid waste.
Plus, we delve into the finer details of Australia's METS sector ten-year competitiveness plan and hear from the founders of Med Air Africa about how to best support miners in remote operations.
Digital Magazine FAQs
You can read MINE for free on the iPad. Download our app from the App Store to read the latest issue and browse the back issues in our archive.
You can also continue to read the desktop version for free on our web viewer. (Browser compatibility: The web viewer works in the latest two version of Chrome, Firefox and Safari, as well as in Internet Explorer 9 and 10. Some features may not be compatible with older browser versions).