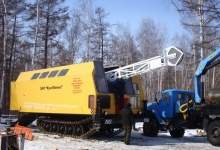 In little more than a decade, Amur Minerals has gone from a relatively unknown British exploration outfit with a single licence covering a vast but seemingly unremarkable area of Russia's farthest eastern reaches to the sole owner of what could be one of the world's largest ever nickel assets.
Having studied Soviet-era data on Kun-Manie, which had been assessed and dismissed by others, the company was sufficiently convinced of its potential that it acquired rights to explore 950km2 in search of sulphide nickel and copper in 2004. After a decade of combing the full breadth of the licence, it settled upon the 40x2km Kurumkon Trend as the best bet for profitable production.
Following a series of detailed studies involving ground-based geophysics, geological mapping and sampling, Amur identified five suitable deposits within a 20km pocket that together were estimated to hold significant enough resources of nickel and copper to merit further exploration.
Small, narrowly focused mining exploration firms frequently identify valuable assets, but in general they will sell them off to one of the larger operators or enter a joint venture to take them into production. But Amur, while not entirely ruling out the prospect of outside assistance, is firmly fixed on pushing ahead.
---
---
Economic turbulence in China has been laying bare the mining industry.
---
Through its development, the company has revised the production plan to reflect its increasing ambitions. Originally, it was to extract the ores from four open-pit mines, powered by external sources, and transport them to the closest smelters and refineries for processing.
Bolder plan for bigger payoff
Under the revised production plan, which was given the go-ahead by Russian Prime Minister Dimitry Medvedev in May, the reliance on external support is severely reduced, with an increased onus on Amur to deliver. "This operational blueprint represents ten years of successful exploration at Kun-Manie, along with a total redesign of the project," said Robin Young, CEO of Amur Minerals.
The grander plan comprises two underground mines to go with the original four open pits to boost annual production on site up to six million tonnes. With an operating cost per ore tonne of $34.86, the estimated net present value of the project is $710m per year.
Major changes have also been made on the operational and infrastructure front. With the revised output, Amur is now working to provide on-site power generation and also construct its own smelter and refinery. It will upgrade the roads to improve transportation. All in all, the initial cost to get things up and running is estimated at $1.38bn while a further $474m will be spent over 15 years of operation.
Ramping up against the elements
Now that the final approval has been given, the company is free to start preparing for production and according to Young, everything is in place: "We can start exploration almost immediately. We have all the fuel, all the materials, all the supplies, so we're prepared to mobilise within days."
The project is not without its challenges, though, and the extreme weather conditions in the area will not make things easy. On the exploration front, activities will be halted in November when the water sources freeze and sufficient supplies to lubricate drilling equipment are no longer available.
"We can start exploration almost immediately. We have all the fuel, all the materials, all the supplies, so we're prepared to mobilise within days."
The cold conditions will also eat into operational efficiency during production. "In our schedule we've built in ten snow days," explained Young. "We've also built in ten cold temperature days and the reason for cold temperature days is that the steel will become brittle and sometimes when you're excavating you'll start to break teeth off the front loaders, you'll crack tyre rims and things like that. When you reach those temperatures, you park your equipment on the side and you wait for it to warm up."
Beyond the whims of the weather, another major challenge will be the company's capability to transition from exploring to producing: "There's a completely different skill set between mining and exploration. One of the things we've recognised right now is the fact that we are exploration but in the future, when we go to production we have to have a different skill set."
Go it alone or accept assistance?
For the moment, Young is adamant that the company can make that transition, but he admits that if an attractive offer emerges, outside assistance might be accepted: "There will be a point in time where somebody may express an interest where a possible joint venture could be formed or an acquisition could be considered or a merger of assets. We keep an open mind on this so anyone who presents us with a viable offer to the shareholders would be considered."
A more immediate issue is financing. With a current market capitalisation of just over $132m and a project cost of $1.85bn over the next 15 years, the company will need to markedly increase its investment. Such a significant scale up in capital is a major factor in why exploration firms generally sell proven assets to a firm with deep pockets.
As Amur has already said, any serious offers for joint ventures or acquisition will be considered, but for the moment the company is confident it can satisfy the funding demands itself. From its early stages, the company has been talking to potential investors in both the UK, where it is listed on the Alternative Investment Market, and Russia. While the talks have been positive, Amur explained that investors indicated that they would wait until plans were secure before getting involved. With the exploration rights secured, talk can now turn to investment.
If Kun-Manie is to live up to its potential, these and many more challenges will need to be overcome, but having spent ten years on getting this far, Amur is determined to succeed.