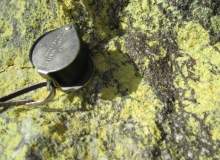 China's mining industry has reversed its plans to make additional cuts to rare earth exports this year, 2011, but decisions to hoard the precious metals in previous years may have contributed to its own future downfall.
A drop in global rare earth prices triggered the initial slash in exports in August 2010, when Chinese authorities announced a 72% cut for the second half of the year.
"The Mountain Pass mine, California, once supplied most of the world's rare earth elements (REEs)."
Around the same time, Li Bang, an international strategy expert at the Central Party School, wrote in the People's Daily that China should no longer sell its valuable resources cheaply to capitalist countries and declared that REM exports "must be gradually reduced and, ultimately, stopped." By October, there were supply shortages in Europe, Japan and the US.
The World Trade Organisation put an end to the cuts in July 2011, when it was announced that export restrictions from the country were illegal.
China, which currently provides 97% of the world's rare earth minerals (REMs), has also recognised it wasn't in its best economic interests to tighten exports, but this realisation may have come too late.
Since the cuts, the growth in demand for REMs, which subsequently soared in price, has led to the discovery of economical REM hotspots in other parts of the world and, as these sites come online, China could eventually lose its majority share of the market.
Here, we catalogue the most significant of these rare earth discoveries made by geologists in recent years.
Khanneshin deposit, Afghanistan
World class concentrations of rare earth elements were discovered by geologists in the Khanneshin deposit in Helmand province, Afghanistan, between 2009 and 2011.
So far, the US Geological Survey, along with the Afghan Survey and the Department of Defence, has mapped out one million tons of these metals, enough to supply the world's rare earth needs for ten years. But, this estimate is rather conservative, according to USGS scientist Robert Tucker, who said: "We've barely tickled the surface. The chance of these enriched rocks extending to depths of hundreds of metres is really quite high."
Tucker and his colleagues conducted a mineralogical investigation of the samples which had the highest total rare earth concentration.
He said: "We discovered – as the Soviets had – the presence of khanneshite, a member of the burbankite group of REE carbonates, as the principal rare earth mineral in the area. There is also, in some of the fluoro-rich dikes, a mineral known as Bastnaesite which is a light rare earth fluorocarbonate mineral. The third important mineral is carbocernaite."
In addition, the deposit hosts secondary minerals including calkinsite, pariste and synchysite.
Metals such as praseodymium, cerium, lanthanum and neodymium can be extracted from these minerals, but problems with infrastructure mean there could be a long wait for mining operations to commence at the Khanneshin deposit.
Tucker explained: "It [Khanneshin] is hundreds of kilometres away from the power grid, there are no developed roads to the area and – of course – there are security concerns, so it's really going to be up to the international mining companies that win the rights to develop the property as to how quickly they bring it online."
Pacific Ocean Floor
Japan could potentially blow China's dominance over rare earths out of the water after discovering 100bn tons of the metals, crucial for manufacturing TVs, batteries, tablet computers and solar panels, on the Pacific Ocean floor.
"Growth in demand for REMs, which subsequently soared in price, has led to the discovery of economical REM hotspots."
UK journal Nature Geoscience reported in July that the team of geologists, led by Yasuhiro Kato, an associate professor of earth science at the University of Tokyo, found elements including gadolinium, lutetium, terbium and dysprosium 3,500 to 6,000 metres below sea level in 78 locations, close to Hawaii and Tahiti in French Polynesia.
Kato said at the time of announcement: "The deposits have a heavy concentration of rare earths. Just one square kilometre (0.4 square mile) of deposits will be able to provide one-fifth of the current global annual consumption."
The professor added that the metals, despite being based in international waters will be easily extracted. "Sea mud can be brought up to ships and we can extract rare earths right there using simple acid leaching. Using diluted acid, the process is fast, and within a few hours we can extract 80pc to 90pc of rare earths from the mud."
Salobo copper mine, Brazil
This month, Brazil's mining giant Vale announced it had found deposits of rare earth minerals at its Salobo copper mine project at Carajas in Para state.
Vale, which was invited earlier this year by Brazilian President Dilma Rousseff to explore the possibility of producing rare earths, is now prospecting the area in the Brazilian Amazon for the metals used in microchips and oil refining.
Interest in Brazil's rare earths has soured since 2010 when China decided to restrict exports to build a strategic stockpile of the minerals.
Vale is yet to announce the details of the new found deposits. Salobo is one of Vale's biggest copper projects. It is scheduled to start producing copper in 2012, with production of 100,000 metric tons of copper in its first phase and a doubling of that capacity by 2014.
Mountain Pass facility, US
The Mountain Pass mine, California, once supplied most of the world's rare earth elements (REEs), before it was closed in 2002, in response to environmental restrictions and lower prices for REEs.
Now though, owner and operator Molycorp Minerals is expanding and modernising the mine, once owned by Chevron, and is planning to bring the facility back to full production by the end of 2011.
"China's mining industry has reversed its plans to make additional cuts to rare earth exports this year."
What's more, Molycorp announced this month that it had discovered four heavy rare earth prospects in the US. The company said at a conference in Washington that after reviewing historical exploration data, it found all the prospects have 4% total rare earth oxide material grades, and "very significant" heavy rare earth element content.
In a telephone interview to the New York Times, Molycorp CEO Mark Smith said his company could begin producing heavy rare earths from the deposits in little more than a year from now, but added: "The company still needs to do extensive test drilling to determine the quality and quantity of the rare earth ore."
One of the deposits is located in close proximity to the Mountain Pass site and Molycorp owns all necessary mine claims for it.