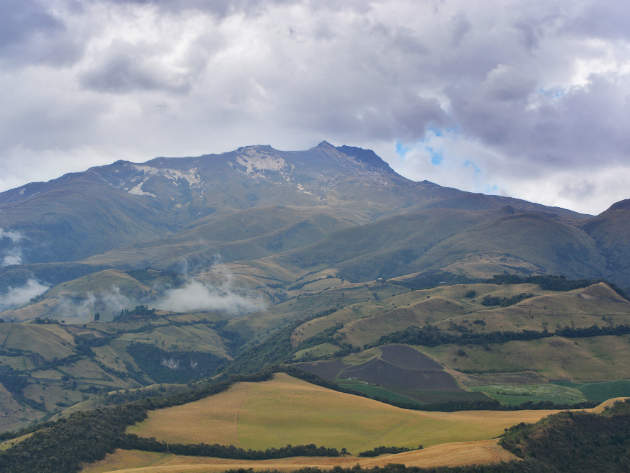 Having finally gained full independence in 1830 following nigh-on four centuries of rule under the Inca and Spanish Empires, Ecuador is now readying itself for invaders of a somewhat different kind.
After a hiatus of six years, Ecuador began granting new mining exploration licences in October, with over 300 to be awarded by year-end, triggering a mini gold rush among foreign operators including BHP Billiton and Hancock Prospecting keen to tap the nation's high-grade copper and gold deposits.
Output from ageing mines in South America and worldwide is beginning to decline, making oil-rich Ecuador's undeveloped commodity reserves a potentially invaluable revenue stream for President Rafael Correa and his government, as it looks to mitigate the impact of low oil prices on its economy.
Three Australian companies − BHP Billiton, the world's largest mining operator, Newcrest Mining, Australia's largest gold producer, and Hancock Prospecting, the privately owned outfit run by the formidable Gina Rinehart − have all held meetings with Ecuadorian officials in recent months.
"Ecuador has in fact been a mining country since colonial times, yet the exploitation of its mineral deposits has not been of any major significance in terms of the country's economic development," states Anuradha Sarangi, business development manager − MENASA, for Frost & Sullivan.
"That changed in February 2015, when the Ecuadorian Government created the Ministry of Energy and Mines. This development, along with recent discovery of large copper and gold deposits, are the main reasons behind big foreign companies inking official deals for exploration and mining projects.
"Ecuador's Ministry of Energy and Mines predicts that the industry will attract more than $600m in foreign direct investment (FDI) in 2016, rising to approximately $1bn in 2017," she adds.
Commodity boom: foreign investment in Ecuador's mining industry
Canada's Lundin Gold was first out of the blocks in June, submitting an application to move forward with the development of its $669m Fruta del Norte interest in south-east Ecuador. Home to 6.7 million ounces of gold reserves and nine million of silver reserves, it is the nation's largest gold project.
In October, Newcrest Mining entered the fray, signing a financing agreement with Australian outfit SoldGold to help it develop its giant Cascabel copper project close to the border with Colombia.
It is the interest shown in Ecuadorian leases by the likes of BHP Billiton, Hancock Prospecting and Perth-based Fortescue Metals Group that has really got the mining industry tongue wagging, however.
BHP is seeking a deal with state-owned company Enami and Chile's Codelco on their joint Llurimagua copper and molybdenum project, an example of the sort of public-private partnership that President Correa is keen to promote as he looks to incentivise FDI with tax breaks and infrastructure upgrades.
"Less than 16% of Ecuadorian territory has been explored, unlike adjacent nations such as Peru and Chile, where the resources are pretty clear now."
"In addition to Llurimagua, other Enami projects in Ecuador of potential interest to foreign players include the Tola Norte Iron Ore project northeast of Quito, the Telimbela copper project in south central Ecuador, and the Pacto, La Bonita and Nanguipa gold-copper projects," says Sarangi.
The nation has also stressed the comparative benefits of Ecuador as a mining hub compared with its Latin American neighbours. Electricity costs, for example, are around a third of those in Chile and Colombia, and about half those in Peru. The main draw, however, is its vast, untapped reserves.
"Less than 16% of Ecuadorian territory has been explored, unlike adjacent nations such as Peru and Chile, where the resources are pretty clear now," says Sarangi. "However, a lot of investment and exploration is required to transform the underdeveloped deposits of Ecuador into profitable mines."
Risk vs reward: is Ecuador the new mining hot spot in South America?
Funding isn't the only potential hurdle facing investors in Ecuador. The Heritage Foundation's annual index of economic freedom puts Ecuador at number 25 out of 29 countries in South and Central America.
As Sarangi points out, efforts by Correa and his administration to make the country more business friendly − and its stance on corruption and the rule of law less opaque − are long overdue.
"The present social-political system is not the best in Ecuador and mining multinationals will definitely put ease of business and corruption as the top two business risks," she confirms. "The World Bank's Doing Business Index currently ranks Ecuador 114th out of 189 countries, and Transparency International ranks it 110th of 175 nations in its Corruption Perceptions Index.
"That said, operational advantages include very good mineral grades − including some of highest grade copper in Latin America − a low overburden ratio, low electricity prices as a result of state investment in hydropower projects, and good infrastructure in regards to ports, roads and airports."
Mining Minister Javier Cordova Unda, speaking in Melbourne last month, was also upbeat about his country's ability to woo investors from abroad and kick-start a potential mining boom in Ecuador.
"This is the perfect time for us and the industry," he told Bloomberg at the International Mining and Resources Conference. "It's the reason why the likes of BHP are looking around, because many of the projects in Chile are declining and they are looking for new opportunities.
Ecuador expects producers to make at least $8bn in investment in new mines by 2024, according to Cordova. "I strongly believe that those numbers are going to be much higher," he added. "We are seeing now a lot of interest in Ecuador and it's very encouraging for us."
Think global: Ecuador a positive story amid the gloom
With copper forecast to decline by 2020 amid rising demand and a dearth of new mining operations, competition for quality exploration projects is set to intensify as new assets become harder to mine.
Against the backdrop of the prolonged industry slump characterised by low commodity prices and dwindling reserves, how does Sarangi see the mining market faring in the short to medium-term?
"Historic low commodity prices have had a detrimental effect on mining companies' bottom lines, resulting in job cuts and mine closures, and this period has also seen some consolidation of small mining companies," she says. "Compared to this gloom in the commodity markets, Ecuador has managed to attract an impressive amount of interest and investment from global mining companies.
"It is difficult to predict the end of the global commodity price crash since the outlook for different commodities clearly varies significantly," she continues. "For example, phosphate and some base metals such as zinc and copper appear to have more attractive short-term projections.
"Exploration will continue to be low and in order to survive and remain profitable mining companies will be driven to innovate in energy-efficiency, automation, data analytics and material processing."