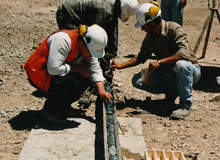 Mining salaries can be very lucrative but vary widely depending on the location, size of the company, years of experience and the educational qualifications of an employee. Mining-technology.com picks the top ten mining jobs associated with core mining operations, based on the latest annual salary survey data.
Project director/ drilling operations director – up to $400,000
Project Director and Drilling Operations Director, two of the highest profile positions on a mining project, can draw annual salaries of more than $400,000, standing out as the highest paid mining jobs.
A Project Director provides strategic leadership to a mining project in different stages from concept and feasibility to construction and operation. A Drilling Operations Director is responsible for the overall planning, direction and execution of drilling operations for a mining organisation.
Project Controls and Site Managers – up to $350,000
Managers fetch the second highest payment in the mining industry. Project Controls Managers and Site General Managers draw salaries up to $350,000 per annum making these the best paid managerial positions in mining.
The salaries of mine managers, technical services managers and drilling operations managers, which are the other key managerial positions in the core mining industry, range between $200,000 and $280,000.
Engineers – up to $240,000
Engineers represent the third highest paid mining jobs – a Principal Mine Planning Engineer is paid up to $240,000 a year, whereas average annual salaries of senior level geo technical engineers, mining engineers, drill and blast engineers, and materials handling engineers range between $150,000 and $230,000.
The mining industry also employs civil, mechanical, electrical, and process engineers whose annual average salaries range between $70,000 and $180,000.
Geologists – up to $230,000
The job role of geologist is intrinsic to any mining operation and the annual pay range for geologists starts from as low as $50,000 for a Graduate Geologist, who can grow through levels up to a Chief Geologist earning as high as $230,000.
Mines employ two categories of geologists – Mine Geologists, who ensure that mining occurs in right places and that good sampling is carried out, and Exploration Geologists, who are responsible for resource discovery and evaluation. The annual average salary of a senior level mine/exploration geologist ranges from $90,000 to $160,000.
Metallurgists – up to $220,000
Metallurgists are paid up to $220,000 per year making them the fifth highest paid employees. A Graduate Metallurgist earns between $50,000 and $90,000 per year whereas a Senior Metallurgist earns between $90,000 and $160,000 per year.
Metallurgists are employed in the processing sites of mining organisations. With significant years of relevant experience, a metallurgist could be promoted to the positions of Process Engineer and Process Manager. Many mining companies employ a Principal Metallurgist to spearhead research and development in the field.
Geophysicists – up to $200,000
Geophysicists, who study the physical structure and composition of earth, are the sixth highest paid employees in the mining industry. A Senior Geophysicist working for mining projects earns up to $200,000 per year.
A geophysicist's role typically involves conducting surveys to locate minerals or ground water as well as detect, monitor and predict seismic, magnetic, electrical and thermal activity in a given earth body.
Occupational health safety and environmental professionals – up to $190,000
Top level occupational health safety (OHS) and environmental professionals are paid up to $190,000 per year. An OHS officer is paid between $50,000 and $115,000 per year while the average annual salary of an environmental officer ranges between $60,000 and $115,000.
Environmental superintendents / coordinators and OHS managers / superintendents are paid between $80,000 and $190,000 per year. Few mining organisations also employ Health, Safety and Environment (HSE) managers to take care of the health, safety and environmental aspects of employees engaged in mining operations.
Mine supervisors / mill superintendents – up to $168,000
Annual salaries up to $168,000 make Mine Supervisors (operations/maintenance) and Mill Superintendents the eighth highest earners in mining.
A supervisor for underground or open pit mining operations is paid between $70,000 and $165,000. Workshop supervisors for mobile plant surface maintenance and underground mobile plant maintenance supervisors earn between $75,000 and $150,000 per year. A Mill Superintendent at the processing site earns between $100,000 and $168,000 per year.
Surveyors – up to $165,000
Surveyors who measure underground and open-cut mines help the mining organisations maintain a proper mine plan by updating the surface layouts and keeping a record of underground workings, draw an annual salary up to $165,000.
An entry level mine surveyor earns between $55,000 and $130,000 per year where as the annual salary of a senior and chief surveyor ranges from $80,000 to more than $160,000.
Operators / technicians / miners – $150,000 to $165,000
Different operators engaged in mining operations including mill operators, excavator operators, dump truck operators, bogger operators; technicians including the geological technicians, pit technicians, instrumentation technicians, Heavy Duty (HD) fitters, auto electricians, boiler makers and welders, and metallurgical and laboratory technicians; drillers; and underground miners are generally the tenth highest paid mining employees.
Jumbo operators in Australia earn up to $165,000 per annum, however the maximum salary paid to mill operators in rest of the world doesn't exceed $111,000 per year. The annual salaries of technicians, electricians and fitters range between $50,000 and $150,000. Underground miners earn more than $150,000 per year, much higher than that earned by surface miners whose annual salary ranges between $50,000 and $85,000.
---
Warning: these salary brackets are not universal and will vary. The information provided here has been complied from data covering as wide a proportion of the international mining industry as possible.