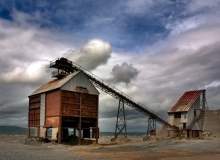 Miners need to be kept supplied with resources for their work, need to get to and from the pit face and need somewhere to spend their money the rest of the time. If towns aren't planned from the start, buildings often start by clustering round individual, scattered pits.
Joining these together can form complete towns with shops, hotels, hospitals, schools, cinemas and other forms of entertainment.
A ready supply of coal has often attracted other industries, particularly energy intensive ones which can require huge volumes of coal to process raw materials. So, while some cities service mines exclusively, others grow up with a mix of industries.
Then, mining activities impact upon other city residents as well as original inhabitants of the land. Often, it damages or even destroys the landscape that feeds it, and people are now less tolerant of environmental damage than when mining cities were built. Mining is increasingly having to address environmental concerns.
Attracting new technology and diversifying
"When most mines and mining cities were opened, environmental concerns took a distant second place to development."
Some existing coal mining cities are turning to new technologies to avoid the problems associated with coal burning. One of China's major coal mining cities, Jincheng City, is built around an estimated eight billion tons in reserves of anthracite coal. It is adopting cleaner coal processes and developing new industries to supplement its coal industry, offering one million yuan grants to do it.
The mines now already extract billions of cubic metres a year of coal mine methane (CMM) from surface and underground, and plans more. That has improved safety in the mines, reduced air pollution in the city and greenhouse gas emissions, and brought a cheap new source of fuel.
Energy-intensive activities like glass making have transferred from coal to methane, simultaneously making processes more controllable and so improving glass quality. Taxis and buses in the city have been converted to run primarily from methane, with petrol only a backup (again helping improve air quality). The city is also looking at more speculative techniques like carbon capture to reduce the environmental effects of coal burning.
An anthracite mine near Jincheng has recently been reopened by the Lanhua Industrial Group for pulverised coal injection (PCI) in blast furnaces. Jincheng is also diversifying, shifting its focus from traditional to high-tech industries.
New industries include machining, coal-based chemical industries and pharmaceuticals. Jincheng is attracting companies like Datang, Sinochem, Henderson, Houde, Ogasawara, Foxconn and Walmart.
New mining cities being planned
New mining cities are still being planned. Bangladesh is studying four sites to place a new coal-mining city in Dinajpur. The government prepared a draft map in 2009, planning an experimental city with 10,000 people. The city will be extended in phases and should include a coal mining university, college, school, community hospital and industrial units.
The area has been selected because of the nearby Barapukuria, Madhyapara Phulbari, Dighipara and Khalashpir coal deposits. The Barapukuria field alone has a 400 million ton reserve, with a forecast 10% to 20% extraction.
The city is planned to service open-pit and underground mines, and UK based Global Coal Management, GCM (previously Asia Energy) has won a contract to develop Phulbari. The proposed development will have up to one GW of coal-fired power generating at the mine mouth and then a possible further three GW.
The Bangladesh government is now trying to build public opinion to allow open-pit extraction. It has already promised to compensate impacted families for loss of land and for subsidence. Subsidence from existing mines has affected more than 300 acres of land, with many houses developing cracks and up to 40,000 people needing re-settling over the 30-plus-year life of the mines.
Many locals continue to resist the project, though, saying open cast mining in particular will destroy local habitats and pollute underground water.
"If towns aren't planned from the start, buildings often start by clustering round individual, scattered pits."
When serving a single mine and a single employer, a major question is who runs the town. The mining company often provides the facilities but local government needs to run it. Roxby Downs was for example built as a joint venture between the South Australia state government and Olympic Dam Project company (Olympic Dam is a nearby copper / uranium / gold / silver mine).
Built in 1987, ODP built the houses and provided their associated utility supplies, while th eSouth Australia state government set up education and recreation buildings. The town houses 4,000 people and has schools, shopping centres, a cinema, swimming pool, community radio, cafes and sporting clubs. Roxby Downs has its own Municipal Council, along with an Administrator who appoints volunteer committees to implement a community plan.
National and local governments need to keep their distance from the mining company – difficult with the company being by definition such a large employer in the region. That means keeping a close eye on conditions and administration – a company having absolute power in its own city is just too open to abuse. There have, for example, been protests that local land owners around Roxby Downs are being pressed by governments and mining companies to lease their land and water rights for nuclear development.
Mines can cause problems just because of their scale, by taking huge amounts of water – already scarce enough in areas of Australia. Mine tailings around Roxby Downs have spilled over lined storage ponds to affect the water table and kill wildlife, and mine workers have allegedly been exposed to unsafe levels of radiation.
Facing new problems
Such problems have often damaged communities surrounding mines. The 'real' costs of coal (and other minerals) are higher than we pay as consumers. Burning coal compounds the problem, making it global. Australia is introducing a carbon tax in an attempt to recoup some of these costs.
The country is vulnerable to the effects of global warming but it is still a courageous decision. Australia generates 80% of its electricity from coal, and is the world's largest coal and iron ore exporter, much going to China and Japan. The government has said that coal mines, steelmakers and electricity generators will be compensated, but workers are naturally afraid for their jobs.
When mining cities close, whole communities have to be dispersed. Then, there is often little left for people except to try for the tourism and heritage industry. The Sewell mining city in Chile, for example, has become a UNESCO recognised National Monument. It is now uninhabited but was home to more than 16,000 people when the El Teniente copper mine was being worked. It had a hospital, industrial school, court, theatre, casino, swimming pool and skating rink. Now, it has a Museum of Copper Mining.
Similarly, the Russian coal mining city of Pyramiden ('The Pyramid') in Svalbard, Norway, had more than 1,000 inhabitants. It is now a ghost town after being abandoned in 1991 by the state-owned Arctikugol Trust. Somewhat hopefully, since it lies in the Arctic, it is being turned into a tourist resort.
Development not as easy this time round
When most mines and mining cities were opened, environmental concerns took a very distant second place to development. Now, mining companies (and governments) often paint glowing pictures of the benefits that mining will bring to a region.
"Australia generates 80% of its electricity from coal, and is the world's largest coal and iron ore exporter."
They promise faithfully that the landscape will be returned to its former glory once the mine is exhausted. However, those commitments often last only as long as the profits keep rolling in.
Besides scarring the landscape, mine tailings can leak chemicals into rivers and lakes and hence into the water table. When a mine is exhausted, companies often either abandon the land or sell it off at a bargain price to escape their clean-up responsibilities. They are notorious for filling their pockets and then just walking away from the problems they have caused.
This time around, local communities will put up more of a fight. It is in the interest of mining companies themselves to take this seriously – treating it as just a public relations exercise is no longer enough.