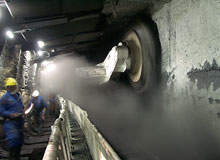 Along with coal worker's pneumoconiosis, also called black lung, silicosis is one of the primary respiratory diseases that has damaged the mining industry since the industrialisation of drilling operations in the 20th century.
Classified as an occupational lung disease, silicosis (which is itself a form of pneumoconiosis) is caused by the inhalation of crystalline silica dust.
Once the dust is inhaled, it can cause permanent scarring in the lungs, resulting in symptoms like breathing problems, persistent coughing, fever and chest pains. Silicosis sufferers also face dramatically increased risks of tuberculosis infection, and medical studies also suggest an increased risk of lung cancer. The disease is irreversible and potentially fatal.
Silicosis in the developing world
Despite the fact silicosis is an old and well-studied disorder, not to mention preventable as a workplace hazard, it remains a stubbornly entrenched danger in the modern mining world.
"The gold mines of South Africa have become a global epicentre for mining-related silicosis."
This is especially the case in developing countries, where regulatory regimes are often more problematic to enforce and worker conditions can leave much to be desired.
Silica dust can be kicked up by all manner of drilling operations, but underground gold mining, which often involves drilling through rock with high quartz concentrations – sandstone and granite, for example – is a particular risk. As such, gold mines of South Africa, which are staffed by a mostly migrant workforce and often exceedingly deep, have become a global epicentre for mining-related silicosis.
A series of studies on South African gold miners have revealed shocking silicosis rates. A June 2008 survey of gold miners from Lesotho, who had formerly been employed in the President Steyn mine in the neighbouring Free State, found silicosis rates to be as high as 25%, with accompanying high levels of tuberculosis.
South Africa's struggling compensation system
Migratory patterns of South African miners throws up issues when it comes to silicosis, as the disease can take many years to start presenting symptoms after initial contraction.
This has thrown into disarray the South African Government's efforts to compensate workers who have been left unable to work because of silicosis caused by mining jobs that might have taken place years previously.
The Occupational Diseases in Mines and Works Act (ODMWA) entitles miners to state compensation for debilitating silicosis, but many miners who would now be eligible are no longer in the industry and perhaps living hundreds of miles away.
This often leaves them unable to receive even basic treatment, let alone substantive financial compensation. According to one study, only 2% of the nearly 300,000 miners who are eligible for compensation have received money to which they are entitled. 
However, a landmark case involving South African former gold miner Thembekile Mankanyi has the potential to completely change the issue of silicosis compensation in the country.
A Constitutional Court ruling in March 2011 found that Mankanyi and his family were free to pursue compensation – potentially totalling nearly $350,000 – from his former employer AngloGold Ashanti.
Tragically, Mankanyi died of respiratory failure just before this ruling was announced, but it potentially paves the way for his family to be compensated, and if successful could open up the entire private sector in the South African mining industry to class-action lawsuits from former employees.
Silicosis prevention
South Africa might be an example of a country where the dangers of mining-related silicosis are most pronounced, but the disease is still a problem in developed mining industries.
Deaths from silicosis and related illnesses still occur in US mining, for example, and the Mine Safety and Health Administration (MSHA) has announced it is planning to introduce new regulations about dust inhalation in mines.
"Only 2% of the nearly 300,000 South African miners who are eligible for compensation have received money."
The most tragic aspect of silicosis-related deaths is that techniques to limit miners' inhalation of crystalline silica are well-established and practical. "Silicosis is preventable; it's such an old disease with substantial knowledge of the means to prevent it," says MSHA's deputy assistant secretary for policy Dr Gregory Wagner.
"In the 1930s, the Secretary of Labor pointed out that we knew what needed to be done to prevent silicosis. We know what to do; the issue is not a temporary application of what we know, but a continuing commitment to prevention, ensuring that safeguards are put in place and maintained."
Tried and tested silicosis prevention techniques essentially involve limiting the release of silica dust into the air and implementing proper ventilation to keep the dust that does escape out of the lungs of miners. "Engineering controls are at the top of what we call the hierarchy of controls," says Wagner.
"The most effective engineering controls should be a combination of wet methods, ventilation and shrouding or separating the individual from where the dust is generated. So you're reducing the generation of dust through wet methods, ventilating it away from the miner if at all possible, and then there are a variety of other methods specific to particular mining techniques. It's basic industrial hygiene – you separate somebody from it, you reduce the amount you generate and you try and wet it down or move it away."
Typical measures to limit airborne dust in the first instance include water spray systems to wet down drilled rock and chemical applications on underground walls that cause dust to stick to them.
These measures require particular will to install because, due to the long-dormant nature of silicosis symptoms, it can take years for the benefits to be properly measured.
As South African Chamber of Mines health advisor Thuthula Balfour-Kaipa told IRIN in March: "We can only know in years to come whether these measures have worked."
"Silicosis prevention techniques involve limiting the release of silica dust into the air."
Wagner argues that although monitoring the health of workers is an important method of building data on silicosis, active prevention methods are the only sure way to curb the disease. "The important thing about medical monitoring is that it identifies the problem after it occurs," he says. "Medical monitoring is a secondary prevention effort, but where we know that the process creates the generation of silica dust, we need to be aggressive in controlling the dust and reducing or eliminating exposures. So medical monitoring provides information, but it doesn't prevent disease, it documents it."
Silicosis is a product of the industrial revolution that doggedly persists in the industry today. Its continued existence as an occupational hazard makes it clear there are no short cuts or magic solutions to the problem. In mining markets around the world, government regulators must collaborate with responsible companies, researchers and health organisations to build effective data, implement prevention techniques and leave silicosis in the early 20th century where it belongs.