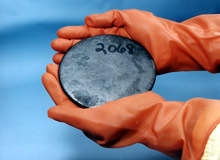 Australia is the world's second biggest supplier of uranium behind Canada. The country supplies just under a quarter of the world's uranium from just three mines; Ranger in the Northern Territory and the Olympic and Beverley mines in South Australia. A fourth in South Australia, named Honeymoon, is expected to start production within the next 24 months.
There is plenty more uranium still in the ground, but getting it out has traditionally been hampered by a lack of bipartisan support at the federal level, state government opposition and a number of other issues including Native Title (land rights) of Aboriginal people and largely unfounded fears within the community.
Australia has about 38% of the world's identified low-cost uranium deposits. The current exports market is worth $546m, tipped to reach about $1.5bn by 2015.
In a recent report commissioned by the federal government, The Australian Bureau of Resources, Agriculture and Energy (ABARE) identified about 20 genuine new uranium prospects around the country.
The report records the expected increase in the world's demand for uranium, projecting a 50% increase in the next 25 years and noting that demand will completely eclipse supply within the next ten years. By contrast, between 1992 and 2004, total electricity produced by nuclear grew at only an average of 2.1% per annum.
Demand is expected to be especially high from Asian countries such as Japan, China and India. Earlier this year, Australia signed an agreement to supply uranium to India and the ink is barely dry on an agreement between the Australian and Russian governments.
Reacting to uranium
ABARE noted that Australia's share of global uranium mine production will decline if no new mines are developed and that significant business will be lost to Canada, Russia, Namibia, Niger and Kazakhstan, the other key uranium suppliers. Between them they account for 80% of the world's uranium resources.
"Australia has about 38% of the world's identified low-cost uranium deposits."
Impeding Australia's ability to supply the global market is the fact that Labor governments in the uranium-rich states of Queensland and West Australia oppose uranium mining. Labor's traditional position on uranium was summed up by its 'three mines' policy, dating back to the early eighties when cold-war paranoia was still alive and well. The disasters at Three Mile Island and Chernobyl further galvanised this position.
But climate change is shifting the politics of uranium in Australia, and last April the Federal Labor opposition declared it had turned the page. The announcement was especially good news for the Australian uranium industry given the likelihood of a Labor win at the upcoming election, and with it the possibility that this would exert further pressure on Queensland and West Australia to alter their stance.
"The big change this year is that both major political parties now support the expansion of uranium mining," says Mike Angwin, executive director of the Australian Uranium Association.
"That is a very substantial change."
Future expansion and investment plans
Mining companies are now spending around $100m a year to get the stuff out of the ground, ten times what was spent in 2003/04. In September 2007 BHP Billiton said it had raised its estimate of uranium resources at Olympic Dam mine by 75%, forecasting future high prices for the mineral.
"The industry had been through a period of significant quiet until the environmental issue became more prevalent and nuclear power became seen as a significant means of minimising greenhouse gases," says Keith Jones, managing partner of Deloitte Western Australia and leader of the firm's mining and resources group in the state.
"It is now better understood that uranium itself is safe in its unprocessed form."
Uranium hit a record spot price of $138 a pound in June 2007 but crashed back to $85 by September. Nevertheless, it remains a red-hot sector in Australia.
"Not withstanding barriers in Queensland and Western Australia you have to say that the direction Australia is heading in is clearly towards the expansion of uranium mining," says Angwin.
One company which has ridden the wave better than most is Western Australian miner Paladin Resources. The company's shares have gone nowhere other than sharply north all year. It produces uranium from its mines in Malawi and Namibia and expects that its Australian activities, most notably in Mt Isa in Queensland, will start to bear fruit by 2012.
"The important thing to realise is that you're not talking about gold bangles here so that demand will stop – you have existing reactors that require product," says Paladin chairman Rick Crabb. The company says that production from Malawi and Namibia should reach seven million tonnes by 2010. Based on shared forward price estimates of around $90, this would result in a spectacular rise in earnings for the company.
Paladin is one of 50 or so companies listed on the Australian Stock Exchange as having uranium interests of some sort. At the moment, 83% of the world's uranium is supplied by just seven companies; Cameco, Rio Tinto, KazAtomProm, Areva, TVEL, BHP Billiton and Navoi.
Rio Tinto, the world's second biggest supplier of uranium behind Cameco, has stated that it wants to double or triple its uranium production over the next ten to 15 years.
"Demand is good," says company spokeswoman Amanda Buckley.
"With climate change issues and security of supply issues, we think it's a good industry to currently be in."
It's all in the reputation
Nuclear energy is now seen as a key alternative to burning fossil fuels. In Australia it is also now better understood that uranium itself is safe in its unprocessed form (yellow cake), which is how it remains until it leaves the country.
"In the coming years, Asia is expected to become the dominant consumer of nuclear energy and uranium."
"The nuclear power industry has one of the most impressive safety records of just about any industry out there in the world," says Mike Chalmers, managing director of Australian uranium minnow Uranium Equities and chair of the Federal Government's Uranium Industry Framework.
By way of comparison he notes that about 10,000 people die every year in coal mines in China. However, Chalmers feels that the challenge of educating industry, government and the community about uranium is only beginning.
"There's still a lot of work for the industry with regard to educating people in a proactive, transparent and passionate way," he says.
"At the same time, recognising that the fears people have about uranium and nuclear and nuclear weapons needs to be acknowledged."
Nevertheless, attitudes have come a long way. The current discussion about Australia's nuclear energy future is now about 'when' and 'how', not 'if'; a position that would have been unthinkable even five years ago. Greenpeace co-founder Patrick Moore's comments in 2006, supporting nuclear power as a means of addressing climate change, marked a major turning point in the environmental debate.
Depending on who you ask, there are more than 440 nuclear reactors operating in the world today. Their combined capacity is around 37,000Mwe. The collective appetite of these facilities is around 79,000t of U3O8 a year. The EU is the biggest consumer, just above North America. In the coming years, however, Asia is expected to become the dominant consumer of nuclear energy and uranium. Japan is already heavily reliant on nuclear energy, with China and India the countries to watch.
"The first point is to understand that the drivers are economic as well as population," says Angwin.
"Electricity supply is expected to double over the next 20 years."
Since the mid-1980s, the gap between demand and supply of uranium has widened. Much of the shortfall has traditionally been met by so-called secondary sources such as inventories stockpiled by utilities, but also, interestingly, enriched uranium from decommissioned nuclear weapons from the former Soviet Union. Agreements for the latter source last only until 2013. This fact further emphasises the importance of new mines.
Land rights and permissions
"Nuclear energy is fast becoming a symbol of progress and modernity."
While once anathema to communities and environmental groups around the world, nuclear energy is fast becoming a symbol of progress and modernity. The irony of this situation when looking at Australia is that a substantial portion of the resources upon which nuclear energy depends is in the hands of arguably the most ancient people on the planet.
Dealing with Australia's traditional aboriginal land owners is simply part of doing business for uranium companies in Australia.
The world's second largest uranium mine is the Ranger Mine in Australia's desolate Northern Territory, of which Rio Tinto owns nearly 70%. The mine sits on land leased from the Mirarr Gundjeihmi Aboriginal tribe from the area.
The Mirarr people also control the highly contentious Jabiluka site nearby, which is known as one of the largest undeveloped uranium ore bodies in the world.
Rio spokeswoman Amanda Buckley says that Rio continues to enjoy constructive dialogue with the traditional owners with which it has a legal agreement not to pursue uranium mining without permission. However, it is unclear whether or not permission was at all imminent. Aboriginal tribes that hold native title in areas rich in uranium generally support the mining of it, provided that they are able to control the terms.
It is an interesting situation. Provided that the forecasts for uranium supply and demand prove true, we might one day see world leaders beating a path to the doors of Aboriginal elders in remote outback Australia to plead their case.