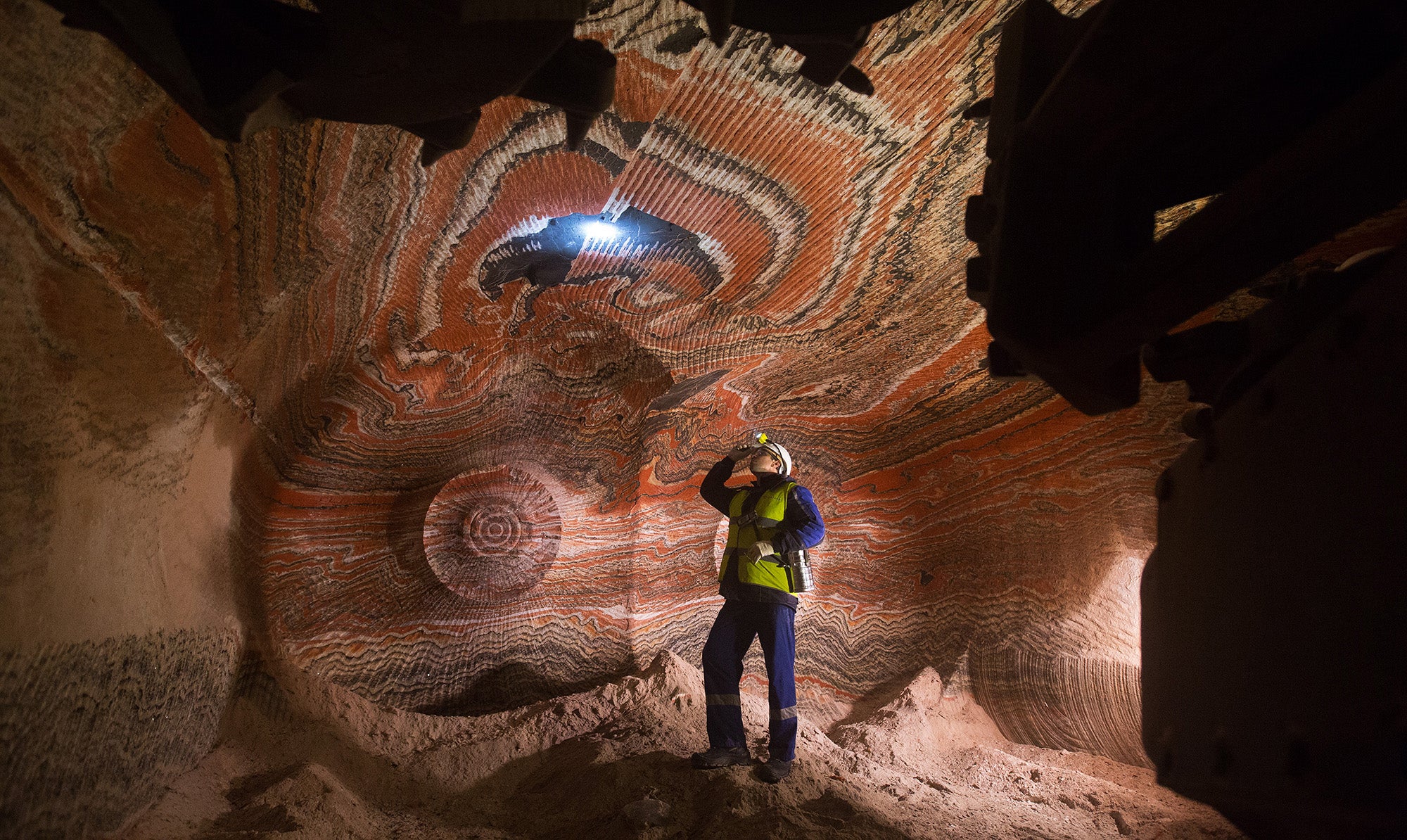 The mining industry is responsible for providing many of the world's building blocks, from coal for powering industry to rare earths for charging appliances. Yet mining could also be responsible for an even more fundamental aspect of human existence, which has seen its supply chain come under intense pressure in recent years: food.
Figures from the World Bank show that the amount of viable farmland per person has fallen dramatically over the last half-century, with the amount of arable land collapsing from 0.361 hectares per person in 1961 to just 0.184 hectares per person in 2018. 
The world's expanding population and worsening climate crisis have put increased pressure on the farmland that is in use, driving operators to find more efficient operations and make more food with less land and resources. The UN has reported that the world's agricultural production will have to increase by 60% between 2010 and 2050 to feed the world.
It is this demand for efficiency that has shone a spotlight on potash, a potassium compound used in the production of fertiliser that can dramatically improve the yield of farmland. Yet there are unique geographical challenges associated with this shift, as the countries with weaker agricultural production are, almost by definition, those also lacking natural potash reserves. 
This has created imbalanced trade relationships, where many countries struggle to develop domestic potash sources. Brazil Potash, which works in the country that gives the company its name, is looking to address this imbalance by developing a potash-production facility in Brazil. But will this be enough to balance the scales of such a vital mineral?
Imbalance and opportunity
On paper, Brazil's agricultural industry looks strong. A 2020 report from the Organisation for Economic Co-operation and Development found that the contribution of agriculture to the national GDP and employment totals was higher than many of its other 37 member states, which are spread across six continents around the world. 
Indeed, arable land accounts for around one-quarter of all agricultural land, suggesting that Brazil has many of the building blocks in place to meet its agricultural needs.
However, the same report noted that the productivity of Brazilian agriculture was on something of a decline, pointing out that between 2000 and 2018, the share of agriculture in Brazil's GDP had fallen from 5.5% to 4.4%, while the sector's share of total employment had halved. 
Since the turn of the millennium, Brazil's population has jumped from around 170 million to over 210 million, which has certainly been a contributing factor to a country that could once rely on its agricultural industry, but has struggled in recent years.
"The soils in Brazil tend to contain a high amount of clay and therefore nutrients, including potash, more easily wash away over time, needing to be replenished for crops to grow," explains Matt Simpson, CEO of Brazil Potash, pointing towards environmental inefficiencies in the Brazilian agricultural industry. "Currently, Brazil imports around 95% of its potash from mines located in Canada, Russia, Germany, and Israel.
"There is only one producing potash mine in Brazil, which is owned by Mosaic and it only has a few more years of ore reserves remaining."
Simpson is optimistic that developing an operational potash mine in Brazil could address the declining efficiency of the country's agricultural industry, and help reduce its reliance on foreign imports. He describes the company's facility, the Autazes Project in the north-west of the country, as a "near shovel-ready advanced stage development project", and discusses many of the processes that the company has gone through to begin to realise this potential.
"The company has completed a feasibility study and environmental impact assessment, as well as obtaining several licenses, including the preliminary social and environmental license based on public hearings attended by over 4,000 people," Simpson says. "We have also completed 74 of the required 76 items to obtain the installation license to start project construction, with the last two items to complete both tied to indigenous consultations that were ongoing until Covid-19 hit."
A big project and big challenges
The scale of the project matches the significant potential for the Brazilian agricultural industry more broadly. Brazil Potash plans to meet between 20% and 30% of the country's total potash needs every year for the next 30 years, and create close to 3,000 jobs in construction and operation, as it aims to bring some of the vast economic benefits of the project to local people.
"Brazil Potash plans to supply 2.4 million tonnes per annum (Mtpa) of the currently consumed 10.6Mtpa of potash consumed in Brazil," says Simpson, who also spoke about the fact that this is as much about financial potential as national interest for Brazil.
"Since potash is an essential nutrient to grow food with no substitute and Brazil's soils are naturally nutrient deficient given the high clay content, it is of national importance for Brazil to have a large domestic supply of potash. 
"[This will] ensure food security for its own population, followed by supporting roughly 24% of the country's GDP, which comes from the agriculture sector," he continues. "Brazil Potash is the only company to my knowledge to be deemed of national importance by both Brazil's Federal Government and National Observatory."
Yet the project has been a massive financial undertaking for Brazil Potash, which is perhaps to be expected considering its scale, with the company estimating the total cost of the project to be around $2.1bn. This is in the same realm as the vast $4.5bn Woodsmith project in the UK, which is now operated by Anglo American, and reflects a rapidly growing potash-mining industry that is as potentially lucrative as it is prohibitively costly.
Simpson noted that securing this funding would be a key challenge for the company, which looked to raise around $50m in additional investment as recently as October 2020, which would push the value of Brazil Potash to over half a billion dollars. 
There are also a number of other challenges that the project faces, many of which have been tackled by other miners and energy firms over the last year or so, such as overcoming the logistical hurdles of the Covid-19 pandemic and ensuring support from and benefits for local people.
Yet Simpson is optimistic that the company's approach, offering employment and economic benefits to local people, has helped generate support for the Autazes Project, saying that: "The company has very strong support from all levels of government – local community, state, and federal – for project construction, given the criticality of having a large source of domestic potash to ensure food security."
A unique mineral
While the world's miners are increasingly interested in potash, it remains a unique mineral for development. Unlike other mining products, potash is used in food production, and so remains a more fundamental need for human life, taking on the element of "criticality". 
Governments simply have to feed their people, whatever the cost, and this necessity has made the potash supply chain one of the world's most pollutant, and most difficult to break.
Brazil Potash, for instance, reports that the transport of potash to Brazil from Canada alone is responsible for releasing 508,000 tons of carbon dioxide a year, around one-quarter of the total annual carbon dioxide production of Brazil's neighbour, Suriname. 
The company expects its Autazes Project to cut this emissions figure by up to 65%, creating an unusual situation where a large-scale new mining project could ultimately do more harm than good for the environment, at least on a global scale.
There is also an issue of replicability in the nascent potash industry, where geographic and environmental differences between various potash deposits around the world make it difficult to assess whether the work of companies like Brazil Potash could help inspire a new wave of home-grown fertiliser production around the world. 
Many of the challenges facing the Woodsmith mine in the UK, for instance, were related to funding. In Brazil, however, a more complex network of challenges means that the lessons learned from one mine cannot necessarily be applied to another.
"Increased domestic production of other minerals will come down to a combination of project economics and importance to people's wellbeing, and/or other related industries to ensure there are no supply disruptions," says Simpson. "Fertilisers are a bit unique in that people need to eat to survive, which is not the case for most other mineral products."
However, Simpson remains optimistic that despite the uniqueness of potash in the mining industry, the environmental benefits of domestic potash production will help drive projects such as his company's.
"Environmental stewardship will also play a factor in domestic production as it does not make sense to unnecessarily transport a mineral 14,000km to 20,000km, generating over 500,000 tons per annum of greenhouse gas emissions, when you can supply it from your own backyard."