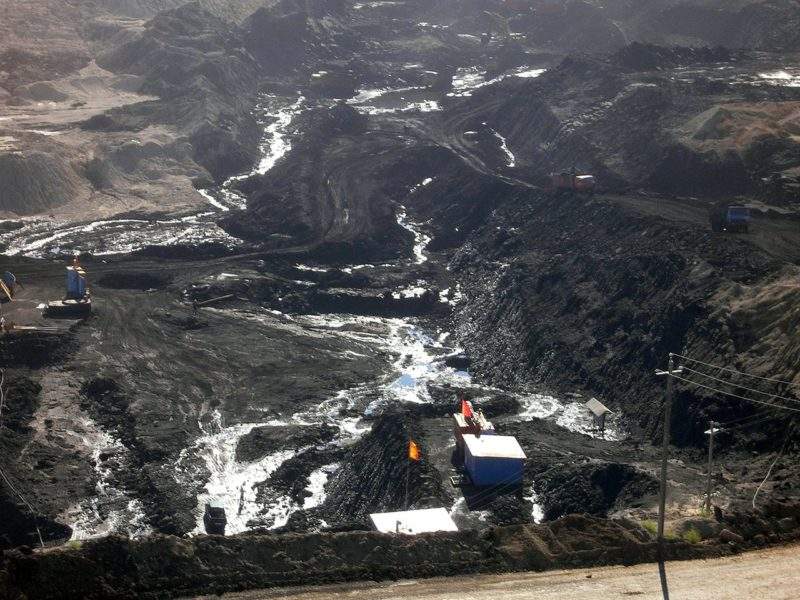 Coal: 7.4 billion tonnes
The World Coal Association estimates that there are more than one trillion tonnes of coal reserves worldwide, enough to last 150 years at current rates of production, so it is unsurprising to see coal ranked as the most-mined mineral in the world.
While China has consistently led the world in production – the country was responsible for 3.3 billion tonnes in 2016 – this was down 16% from the 3.9 billion tonnes produced in 2012. Chinese coal output slumped below the 3.4 billion tonne-threshold predicted in 2016 and the trend may continue, as renewable energy sources become more widespread.
The Chinese decline has mirrored a trend in worldwide coal production, which fell to 7.4 billion tonnes in 2016 from 8.2 billion in 2012. While coal production has increased in Australia and Russia in the last five years, both South Africa and the US have seen sharp declines in production of anthracite and bituminous coal. American coal production in particular has fallen from over 900 million tonnes in 2012 to 782 million in 2016, the lowest figure since 1979.
Iron: 4.6 billion tonnes
The 4.6 billion tonnes of iron produced in 2016 includes iron ore and crude iron, two minerals whose production has been trending in opposite direction.
Global iron ore production has increased from 2.9 billion tonnes in 2012 to 3.3 billion tonnes in 2016, peaking at 3.38 billion in 2014. Crude iron production, however, has consistently declined from 1.24 billion tonnes in 2013 to 1.23 billion tonnes in 2016, peaking, like iron ore, in 2014 at 1.26 billion tonnes.
Iron remains critical to industry and construction, as its role in the production of steel and concrete means it accounts for 90% of all refined metal. However, falling ore grades and high production costs have contributed to a decline in production in some of the world's largest iron-producing countries, with South Africa, the US and China all reporting lower production figures in 2012, compared with 2012.
Brazil and Australia, meanwhile, have seen production increase, with companies investing in new mines to replace older ones. In June, BHP approved a 4bn iron ore project in Western Australia, which will begin production in 2021, to replace the 80 million tpa Yandi mine.
Bauxite: 289 million tonnes
Production of bauxite, a key component in the production of aluminium, has fluctuated over the last five years, peaking in 2013 at 299 million tonnes. The world's five largest producers – India, Guinea, Brazil, China and Australia, who between them produced 246.1 million tonnes in 2016 – have all seen increases in bauxite production since 2012.
Guinea, which was the fourth-highest producer in 2016, has seen the most dramatic rate of change. The West African country has seen bauxite production almost double from 17.8 million tonnes in 2012 to 30.8 million tonnes in 2016.
In April, the Guinean Government announced plans to award a $1.4bn contract to Société de Bauxites de Guinée, a Dutch subsidiary of MetalCorp, to build a new bauxite processing plant in the country. Despite having the world's largest bauxite reserves, Guinea has historically processed very little of the mineral, instead exporting it to foreign countries in deals that favour overseas companies. Guinea has reached an agreement with Russian company Rusal where the latter only has to return 0.01% of its bauxite profits to Guinea, equivalent to around $1 per tonne.
Many in Guinea hope that the new MetalCorp plant will enable Guineans to better profit from the country's bauxite reserves.
Phosphate rock: 276 million tonnes
The BGS provides unified statistics for all rocks containing the mineral phosphorous, which is predominantly used as a plant fertiliser, as well as to provide sparks in flares and matchboxes. China was by far the largest producer of phosphates, contributing 144 million tonnes, over half of the world's production, in 2016.
One of the more unusual sources of phosphate is Christmas Island, an Australian overseas territory in the Indian Ocean with a population of 1,800. Phosphate Resources, which has mined phosphate at a single mine on the island for over 100 years, produced 770,000 tonnes of phosphate rock in 2016. However, uncertainty remains over the territory's future, as the Australian Government has rejected the company's applications to expand the mine into new areas, arguing that mining operations threaten local red crab populations, which have collapsed from around 100 million to around 40 million in the last decade.
Gypsum: 267.1 million tonnes
Gypsum is a component of a range of construction materials, such as wallboard and cement, and global production of the mineral has increased steadily from 258.1 million tonnes in 2012. China is the world's largest producer, accounting for 130 million tonnes in 2016, significantly more than Iran, which is ranked second in the world with 16 million tonnes. Smithers Apex reported last year that high demand for sustainable building materials, such as plasterboard made from synthetic gypsum, has driven growth. The analyst estimated that 252 million tonnes of gypsum would be produced in 2016 – a lofty prediction that was surpassed.
It is estimated that North America and Europe contain half of the world's gypsum reserves, and production has grown in both regions. Eight European countries produced more than one million tonnes of the mineral in 2016, with Spain and Turkey leading the continent with 8.66 million and 8.6 million tonnes respectively. US production has been particularly impressive, increasing 17% from 12.8 million tonnes in 2012 to 15.5 million tonnes in 2016.