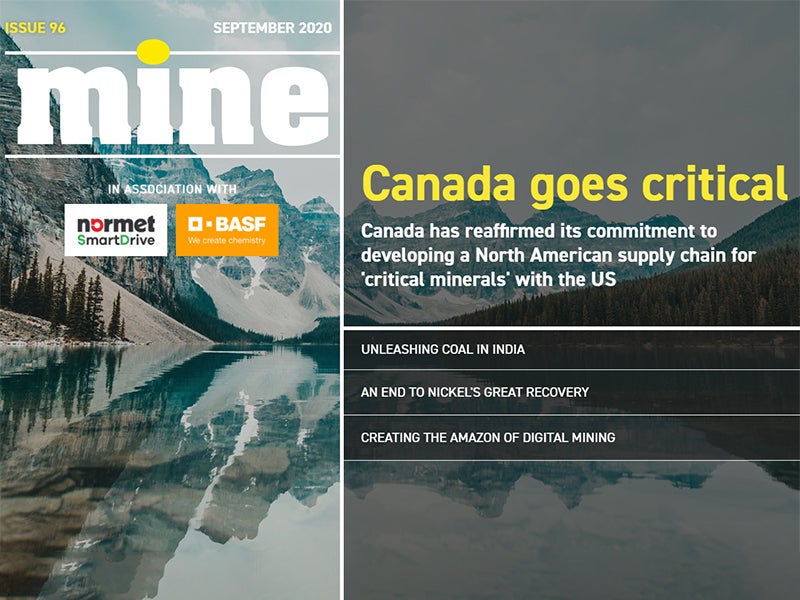 In June, Indian Prime Minister Narendra Modi launched the auction of 41 coal mines, opening India's vast deposits to the commercial sector for the first time. We look at India's sweeping plans and ask: can they be squared with the country's climate change commitments?
We also look at claims around the Canada-US integrated supply chain for critical minerals, investigate how Covid-19 disrupted nickel's great recovery, and learn how flooded mines are being used to heat homes in the UK.
Finally, we explore how hydrogen-powered vehicles could be the future of mining machinery, speak to IBM and Shell about their global B2B digital mining services marketplace, sit down with Axora to talk smart tech in the mining sector, and take a visual tour of the US Geological Survey's seafloor mining research.
Whether you are on a desktop, tablet or smartphone, you can read the magazine for free online, and join the conversation on Twitter.
In this issue 
Unleashing coal: inside India's plans to open up commercial coal mining 
The Indian Government plans to auction the country's vast coal deposits to the commercial sector for the first time. But will the move derail its climate change commitments and increase its dependence on coal-fired power? Heidi Vella investigates.
Eyes on the prize: inside the US and Canada's critical minerals plan
In June, Canada reaffirmed its commitment to developing a North American supply chain in order to deliver a number of 'critical minerals' and reduce reliance on overseas imports. With much of the infrastructure already in place, could this project yield financial and geopolitical gains for Canada and the US? JP Casey finds out.
Resurgent no more? How Covid-19 put the brakes on nickel's great recovery
Nickel had enjoyed something of a resurgence in recent years, climbing in price from the middle of 2016 until August 2019. However, Indonesia's nickel ore export ban and the impact of the global Covid-19 pandemic have made the metal's future less certain. Julian Turner reports.
How defunct coal mines could be heating UK homes
The UK Coal Authority has proposed to once again turn defunct coal mines to heating homes and businesses. But this time, they will not provide coal for burning. The plan, to take warm water from flooded mines, would turn an environmental problem into a community solution, and the idea is spreading. Matt Farmer finds out more.
Hydrogen-powered vehicles: innovations in the future of mining machinery?
As miners look to make technological and environmental improvements to their operations, hydrogen has emerged as a fuel source with significant industrial potential. From 200-ton clean energy trucks to multi-million dollar investments, JP Casey profiles some of the biggest innovations in hydrogen-powered mining.
IBM and Shell's mission to create the Amazon of digital mining
Oren, a global B2B digital mining services marketplace, launched on 17 June. A partnership between IBM and Royal Dutch Shell, the two companies are aiming to accelerate the digitisation of the mining industry by hosting new technologies and digital systems on one platform. Matthew Hall spoke to the partners to find out more.
Smart technology and the Covid-19 rebound with Axora
In May, innovation hub Axora launched an online Smart Mining resource centre, which provides industry insights and access to digital solutions and technologies to mining companies. Matthew Hall speaks to commercial officer Dr. Nick Mayhew and Axora's account director for metals and mining Mark Fraser to learn more.
In pictures: the USGS's ocean mining research
The US Geological Survey has been conducting seafloor mining research for decades, but in recent years has been prioritising critical minerals that could be accessed within the US' exclusive economic zone. In this special gallery feature, Yoana Cholteeva takes a visual tour around the agency's subsea geological work.
Preview – MINE Magazine October 2020
Brazilian mining giant Vale is moving to address concerns and reduce its emissions by a third by 2030. As part of its efforts, experts from the MIT Environmental Solutions Initiative are contributing to the company's Mining Innovation in a New Environment programme. We ask the MIT team about the keys to nurturing a sustainable mining culture.
We also hear from Energy Fuels' CEO about the role the White Mesa Mill has to play in the US' rare earth ambitions, speak to Everledger about eliminating conflict diamonds with blockchain, and talk to Kognitiv Spark about the future of mixed reality in mining.
We also examine how mercury can be mined and used safely, learn about the Future of Resource Taxation initiative, sit down with HUBER+SUHNER to find out about the importance of fiber optics, and look at the political aspects of the rare earths market.