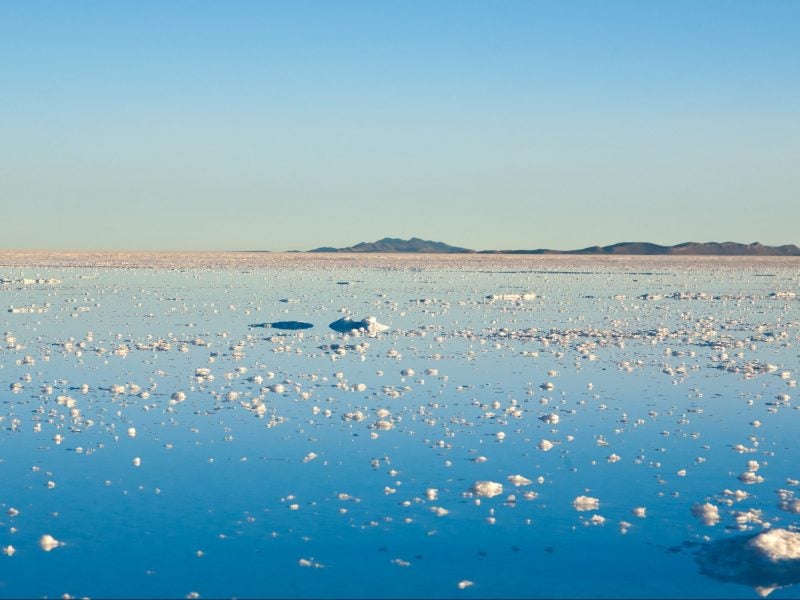 Making up one third of the so-called 'lithium triangle', the Andean nation of Bolivia is estimated to have around nine million metric tons of lithium – the largest accumulation in the world, according to the US Geological Survey.
Due to the expected exponential growth in demand for battery technology in recent years, of which lithium is a component, interest in Bolivia's untapped reserves has skyrocketed. However, unlike neighbouring countries Argentina and Chile, which both have lithium mines in production, efforts to develop these resources have so far amounted to little.
The now exiled former President, Evo Morales, who was a keen proponent of resource nationalism, had tried to kick-start a local lithium industry via a state-owned company and joint partnerships with foreign firms, but he faced public opposition and lack of local expertise. Now he is exiled and elections are planned for May, many are asking whether political stability can be returned to the land-locked South American state and, if so, what approach might Morales' successor take to exploiting the country's lithium riches?
Deals with Germany and China
Bolivia's abundant lithium reserves are mostly located within the country's spectacular salt flats, called the Salar de Uyuni. The area, which is popular with tourists, is home to the largest salt flats in the world.
There were plans agreed by a privately-owned German firm called ACI Systems Alemania (ACISA) and Bolivia's state-owned lithium company, YLB, to develop a lithium mine in the region. However, these had resulted in widespread protests as locals said the agreement to build a mine, an electric vehicle battery factory and a lithium hydroxide plant did not deliver enough local benefits. Eventually, the project was shelved.
YLB has also signed an agreement with a Chinese consortium, Xinjiang TBEA Group Co Ltd, for a new $2.3bn lithium project. The company, which beat six others to secure the deal, including Irish and Russian firms, intends to produce lithium and other materials from the Coipasa and Pastos Grandes salt flats following feasibility studies.
At the time, Morales said the government had gone with China over the others because the country has the world's biggest demand for lithium.
However, the deal, inked in February 2019, will likely be subject to the cooperation of the next administration, whoever that may be. And what stance they will take towards development will be key in whether the agreement moves forward or not.
The new interim chief of YLB, Juan Carlos Zuleta, has already said, as reported by Reuters, the firm plans to place strict limits on foreign investment in extraction of lithium.
"It is important for the international community to know that Bolivian law says lithium should be extracted and processed by Bolivians," he said in January.
Zuleta also reiterated that the deal with ACISA would remain shelved and the Chinese one is to be reassessed. He added that rather than look to outside expertise, Bolivia would look to strengthen local know-how.
Politicising lithium
While Morales, like Zuelta, was a proponent of resource nationalism, he was to a lesser extent than other socialists in the region, such as Venezuela's Nicolás Maduro, says Eileen Gavin, principal analyst at Verisk Maplecroft
"Morales was willing to involve the private sector in participation with the state, that was the idea in 2008 when he set up a state lithium company," she says.
Given the recent protests and with the upcoming elections, it's likely the development of lithium will continue to be further politicised and debated. In reality, despite Zuelta's statements, what happens next will largely depend on who wins these elections, presuming they are deemed fair and legitimate and are not a catalyst for further political unrest.
Morales' Movement for Socialism (MAS), the leading political faction in Bolivia, has two main opponents: Carlos Mesa for the Citizen Community centrist coalition, a former president, and the leader of the civic leaders at the head of Santa Cruz, the traditional right-wing faction, Luis Fernando Camacho Vaca.
Despite MAS being the largest political movement in the country, due to clear signs of public disillusionment with Morales in recent years, the outcome of the election is difficult to predict, says Gavin. However, Carlos Mesa, the centre ground candidate, would probably be the most appealing to foreign investors.
"He would be seen by investors as steadier and more investor friendly," says Gavin.
Nevertheless, she adds that, whichever party wins power, they will likely continue to look to China for foreign direct investment rather than the west, because China is already an established source of investment in the region and has a stronger risk appetite.
Technical and other challenges
As well as political wrangling and social opposition to mining, which is par for the course for any Andean country, Bolivia's lithium reserves face technical challenges to extraction.
"The lithium industry is highly complex, and it needs very deep technical knowledge and huge reserves to try to develop, and this is partly why it has never really got off the ground in Bolivia," says Gavin.
The lithium in Bolivian salt flats is not as dry and contains more magnesium and potassium than in neighbouring Chile and Argentina, which makes the extraction process complicated and costly. Furthermore, the higher rainfall and cooler climate mean the evaporation rate is much slower. Add to this the fact that Bolivia is landlocked and therefore the mineral will be harder to move for export, as well as the ongoing political unrest, its reserves are likely to be deemed much less competitive than neighbouring Chile and Argentina.
For example, in comparison to Bolivia, Chile started exploiting its lithium reserves over 20 years ago, and therefore will be a more obvious and less risky choice for foreign investors.
"Chile was seen until recently [the country is facing its own political challenges] as the more stable, investor-friendly country, with up-to-date institutions and mining and legal frameworks; in Bolivia this all needs to be developed," says Gavin.
"Yes, the demand for lithium is huge all over the world, but the Bolivian sector poses a huge challenge. While on paper, Bolivia has all this potential, unlocking it and getting it to market will take up to twenty years and require serious private investment," says Gavin.
The world will be watching in May as Bolivians take to the polls. The outcome will be the first step in moving the development of the country's strategically important lithium reserves to the next stage. But given the technical challenges and strong civil interest, it's going to be a challenge for any new government to kick start development while keeping all stakeholders happy.