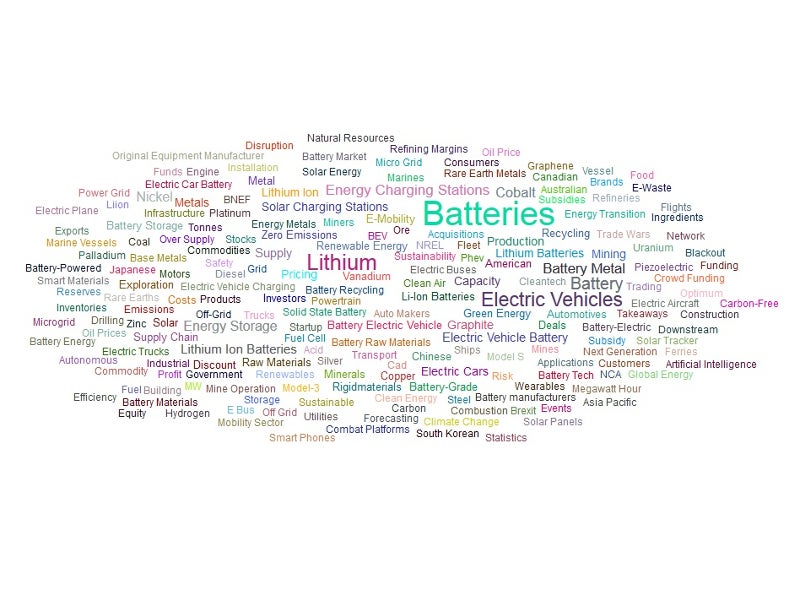 Mining Technology lists the top five terms tweeted in Battery minerals in Q3 2019, based on data from GlobalData's Influencer Platform.
The top tweeted terms are the trending industry discussions happening on Twitter by key individuals (influencers) as tracked by the platform.
1. Lithium – 920 mentions
The increase in demand for Lithium and Lithium ion batteries made Lithium a popular term on Twitter during the quarter. Lithium ion Battery demand is projected to grow three fold by 2020, according to Benchmark Minerals, the price reporting agency for Lithium ion Battery supply chain. The increase is demand is primarily due to the adoption of electric vehicles, as several countries are boosting Lithium production.
Thailand, for example, is investing $3bn in a 50GWh Lithium Battery plant, as detailed in an article shared by LivioFilice, an independent Lithium supply chain researcher. India is also boosting Lithium production by investing $4bn in four production plants, according to an article shared by Livio Filice.
https://Twitter .com/sdmoores/statuses/1167730242770915328
2. Electric Vehicles – 669 mentions
The increasing adoption of electric vehicles (EVs) across the world made EVs one of the popular terms on Twitter . A chart shared by Livio Filice that depicted the rapid growth of China's electric vehicles market as it moves towards zero emissions was among the popular discussions on EVs.
China is also investing in establishing a robust Lithium supply chain to ensure timely transition towards EVs, added Livio Filice. Public transport companies across cities including Los Angeles, Seoul, Toronto, and New York are investing in replacing their existing fleet with electric vehicles, according to an article shared by Livio Filice. LA Metro for example, is investing $138m in procuring electric vehicles.
https://Twitter .com/LivioFilice/status/1168197635603345408
3. Energy Charging Stations – 350 mentions
The importance of developing energy charging infrastructure is being recognised as automakers are increasingly shifting focus to manufacture EVs. The UK government went a step ahead by announcing plans to implement a law to ensure all new homes are built with EV car charging points, which became a popular discussion on Twitter in Q3.
Development of a larger Lithium -ion Battery ecosystem that ensures the availability of critical Battery minerals such as Lithium , cobalt, and nickel was highlighted in a tweet by Simon Moores, MD, at Benchmark Mineral Intelligence . The tweet details the new legislation named American Mineral Security Act, which will secure the supply of critical minerals for the US and reduce the reliance on foreign sources. The expansion of the EV Battery market is expected to lead to a supply crunch of these minerals, which needs to be addressed, as mentioned in an article shared by Amber Mining, a strategic mining analyst at Ernst and Young .
https://Twitter .com/sdmoores/status/1151245775067852801
4. Cobalt – 304 mentions
One of the popular discussion on cobalt during the quarter was on Glencore 's plan to invest $45m in restarting a cobalt refinery in Canada, according to an article shared by Trent Mell, President and CEO of First Cobalt Corporation. The company plans to undertake a feasibility study in 2020, following which the decision to invest further in the refinery will be made.
Glencore was also in the news for deciding to shut down its Mutanda copper-cobalt mine in Congo as it was no longer economical. Cobalt prices are expected to increase following the development, according to a news article shared on Twitter .
https://Twitter .com/TrentMell/statuses/1166332196501807109
5. Pricing – 165 mentions
The decline in Lithium ion Battery prices made pricing a popular discussion during the quarter. The prices of batteries are set to decline by 2023 making electric vehicles more affordable, according to a chart by International Energy Agency that was shared by Ray Wills, a professor at the University of Western Australia.
The market, however, is projected to remain volatile due to supply and demand fluctuations, according to Simon Moores, MD, Benchmark Mineral Intelligence . Supply chain control and strategic investments are expected to be the essential to survive in the volatile market, according to Jose Lazuen, Autos, EV & Battery supply chain analyst at Roskill.
https://Twitter .com/ProfRayWills/statuses/1166233888613494784