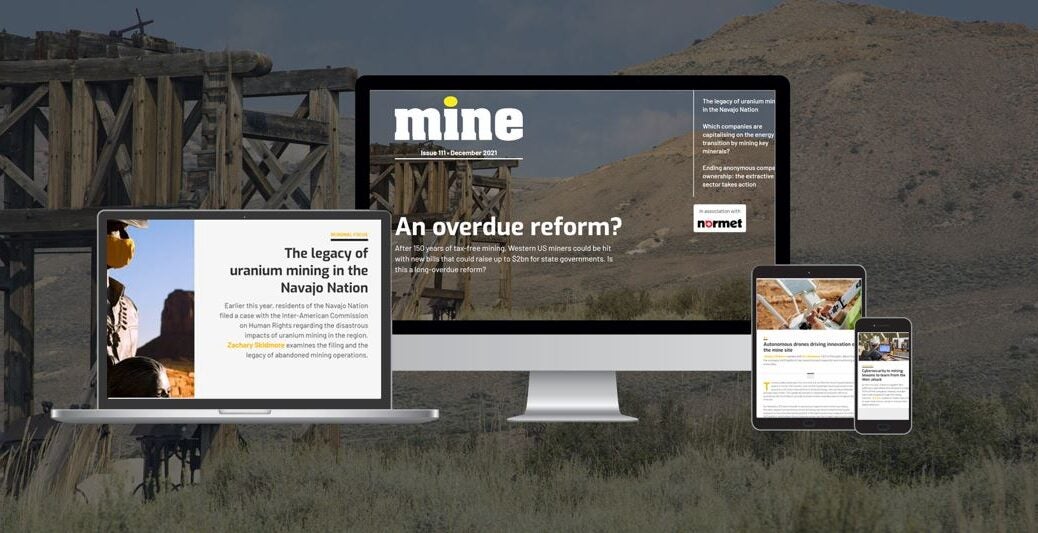 Mining is one of the most heavily-regulated, and heavily-taxed, industries in the world, with governments big and small eager to take a share of the Earth's mineral wealth. Yet this has not been the case in the Western US, where a law dating back to 1872 has allowed hard rock mining to flourish without royalty taxes.
The legislation has allowed miners to expand their operations, and their profits, relentlessly for almost a century and a half, but this golden age may be coming to an end. Proposed laws would implement a royalty tax structure for the industry, potentially generating billions of dollars for state governments, but at the cost of mining company turnover. We consider if the proposals are fair, and what their implementation could mean for US domestic mining.
Elsewhere, we highlight the impacts of some of the world's bigger mining projects, from uranium mining harming water reserves for the Navajo Nation, to political fallout from cross-border hydropower dams. Can the productivity of these project ever be worth some of the damage they are bound to cause?
Whether you are on a desktop, tablet or smartphone, you can read the magazine for free online, and join the conversation on Twitter.
In this issue
The legacy of uranium mining in the Navajo Nation
Earlier this year, residents of the Navajo Nation filed a case with the Inter-American Commission on Human Rights regarding the disastrous impacts of uranium mining in the region. Zachary Skidmore examines the filing and the legacy of abandoned mining operations.
Which companies are capitalising on the energy transition by mining key minerals?
Saywah Mahmood assesses reports from GlobalData that reveal how traditional mining companies are dominating the race to mine key energy transition minerals.
An overdue reform: Will the US update a 150-year-old mining law?
After 150 years of royalty tax-free mining, Western US miners could be hit with new bills that could raise up to $2bn for state governments. JP Casey asks whether this could help balance a historically skewed mining industry, or is it more likely to impede domestic production at a critical time for US mining?
Autonomous drones driving innovation on the mine site
Zachary Skidmore speaks with Dor Abuhasira, CEO of Percepto, about how the company's AIM platform has revolutionised inspection and monitoring at mine sites.
Ending anonymous company ownership: the extractive sector takes action
For decades, opaque companies have facilitated large-scale corruption, including in the mining and other extractive industries. Heidi Vella investigates a new initiative from Open Ownership and the Extractive Industries Transparency Initiative, which aims to end shady practices.
Cybersecurity in mining: lessons to learn from the Weir attack
Earlier this year, industrial supplier Weir suffered a cyberattack that threatens to wipe $27m off the company's revenue, and sent alarm bells ringing through the mining industry. JP Casey speaks to Skybox Security to learn what miners can do to improve their digital defences.
Next issue: exploration
Despite mining's long history as a cornerstone of much of human industry, not every mineral deposit on the planet has been exhausted. Exploration work remains integral to the global mining sector, both as a source of new minerals and commodities, but also as a form of hope and promise, for an industry bogged down by criticisms of its environmental and social damage.
What will the future of exploration hold for the mining industry?