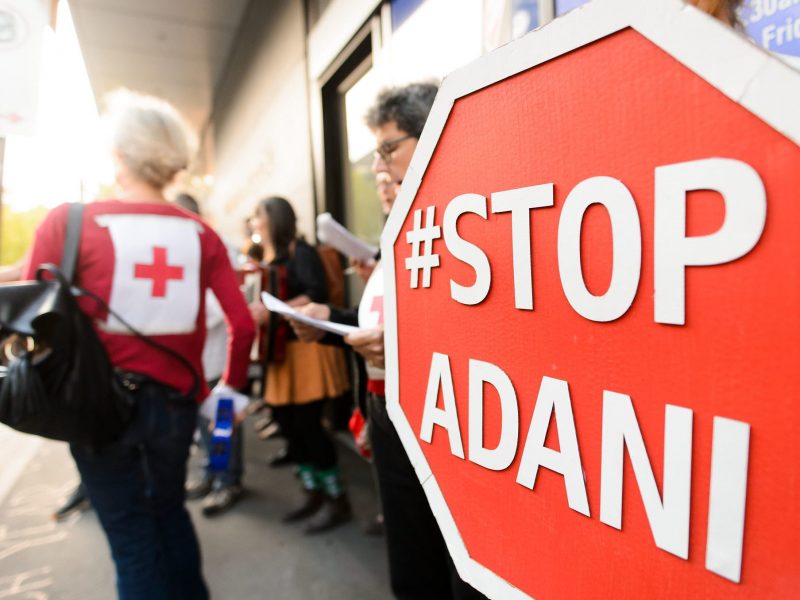 Samsung Securities, the investment arm of South Korean conglomerate Samsung, will no longer provide financial backing for Adani Mining's coal port in Queensland, Australia, and will not provide financial backing for any of the miner's coal projects. The move comes after protesters targeted Samsung over its ties to the controversial coal miner's projects.
It represents another hit to Adani following waves of protests against the company and companies associated with it due to Adani's controversial Carmichael coal mine in Queensland and the mine's associated infrastructure.
What is the Carmichael project?
Carmichael is a thermal coal mine under construction in the Galilee Basin in Central Queensland, which has been approved by the Queensland and federal governments. The project was given the go ahead in June 2019, and construction began later that year. Initially, the mine was envisioned as one of Australia's largest, but over years of planning and regulatory processes the mine has been scaled back. Adani said that once operational, Carmichael will produce 10 million tonnes of thermal coal per annum.
The project has been highly controversial, with disputes over its claimed economic benefits, financial viability and environmental damage. The #StopAdani campaign is staunchly opposed to Carmichael, claiming that if Carmichael goes ahead, it will destroy the ancestral lands, waters and cultures of Indigenous people without their consent, increase shipping traffic through the Great Barrier Reef heritage area and add around 4.7bn tonnes of carbon pollution to the atmosphere over its 60-year lifespan. Adani insists that it has "engaged every step of the way" with the traditional owners – the Wangan and Jagalingou people which voted to support the land use agreement with Adani – and "followed all Federal and State legislative processes to establish land tenure for the Carmichael project." The claim that Adani has the support of the Wangan and Jagalingou people has been contested, with critics unhappy at the way in which that support was sought.
The company also disputes anti-Carmichael activists' estimates of the mine's impact on the environment: "The project must comply with a strict regulatory framework to ensure groundwater is protected. The State and Federal Government approvals for the Carmichael Mine include around 100 different conditions relating to groundwater," Adani said in a statement.
"The mine's approvals also include provisions to protect the Doongmabulla Springs, these state the water level in the springs cannot drop more than 20cm," Adani added. "We have been working closely with regulators over a very long period and provided scientific information about groundwater in and around the mine to inform how it is managed and monitored. This includes using data collected from our network of more than 100 groundwater monitoring bores work."
Adani affirmed its commitment to meeting what it labels strict environmental requirements.
In response to this, Australian Conservation Foundation senior campaigner Christian Slattery said: "Over its life, Adani's mine will drain up to 270 billion litres from Central Queensland's precious groundwater aquifers. Independent scientists and federal government agencies such as the CSIRO have identified fundamental flaws in Adani's groundwater modelling, including the use of highly selective data that differs from on-site testing.
"One effect of Adani's deliberately misleading groundwater modelling is to downplay likely drawdown at the culturally and ecologically significant Doongmabulla Springs. As it stands, even a drawdown of 20 cm – as permitted by Adani's incredibly weak environmental conditions – could cause the complete loss of the Springs."
Carbon dioxide emissions and the economy versus climate dilemma
Adani has strongly and consistently disputed estimates of Carmichael's effect on carbon dioxide emissions. The company has stated that Scope 3 emissions – emissions created by the coal being burned overseas – would contribute less than 0.04% of global emissions. The company has also warned that not using Adani's coal from Carmichael only opens the market to lower quality coal from other sources, which would serve only to increase emissions. In a 2014 joint report to the Land Court of Queensland on carbon emissions, it was estimated that Scope 1, 2 and 3 emissions over the life of the mine could surpass 4.7 billion tonnes – with the qualifier that future restrictions on greenhouse gas emissions may mean this number is not fully realised. Despite this, and despite Adani scaling back the project, numerous environmental groups including Greenpeace and the Climate Council remain opposed to the mine.
Responding to Adani's claims around Carmichael's emissions, Slattery said: "Adani has approval to build a 60 million tonne per annum thermal coal mine. This would be the largest in Australia and one of the biggest in the world. It would also facilitate other coal mines in the Galilee Basin, which is one of the largest proposed expansions of mining on the planet. As the world's climate scientists have repeatedly emphasised, the only way to slow global warming and protect places like the Great Barrier Reef is to stop digging up and burning dirty fuels like coal, oil and gas. Adani's suggestion that its mine would be a net positive for the environment demonstrates yet again the company's pathetic and dishonest attempts to mislead the public."
The economic benefits to Queensland and wider Australia have long been touted by Adani and pro-Carmichael politicians, in December 2014 the CEO of Adani Mining, Jeyakumar Janakaraj, claimed the mine would create 10,000 jobs – a figure cited by former Australian Prime Minister Tony Abbott as evidence the mine would be good for the country. The figure was disputed, with Adani Mining accused of providing misleading information about the project. In 2018 the project was reconfigured to a 10mtpa coal mine, and in June 2019 it was estimated the number of ongoing, operational jobs at Carmichael would be somewhere between 800 and 1,500. Adani stated that there are currently more than 700 people working on the project, and cited modelling from the Queensland Resources Council to show the project will deliver 1,500 direct and 6,750 indirect jobs.
More than 30 financial institutions have refused to finance the project, which was initially forecast as an AUD16.5bn ($11.5bn) development. In 2018, Adani downsized the project to AUD2bn ($1.3bn) and announced the project would be self-funded. Both the Queensland and federal governments have proposed various subsidies and other forms of assistance for the project. The mine has drawn scepticism over its financial viability, with concerns over the structural decline in seaborne coal markets combined with Adani's difficulty raising capital for the project. In 2015, South Korean conglomerate LG announced they would not proceed with a contract to buy coal from the mine. Most of the coal would be purchased by Adani in India.
History of opposition to Carmichael
Samsung Securities' decision to pull support for the project is just the latest in several contracts that have been targeted by environmental activists or by the #StopAdani campaign, intending to dismantle support for Carmichael and make it unviable. The campaigns have made the project toxic to be associated with, hence the scale of companies pulling support. The #StopAdani campaign has taken credit for convincing more than 65 companies to pull support for the project, including global banks, insurers, and long-time Adani contractor, engineering firm GHD.
In response Adani stated: "we have already awarded more than $1 billion in contracts for the Carmichael Mine and Rail Project. Despite a sustained nine-year campaign, anti-coal activists have failed to stop our project going ahead and construction is advancing in line with our schedule."
Commenting on the campaigns against Carmichael mine, Slattery said: "Adani purchased its mining tenements in the Galilee Basin as far back as 2010. Thanks to the historic grassroots Stop Adani campaign, in the decade since Adani has failed to dig up a single lump of coal. The Stop Adani campaign is much bigger than a single mine – it has catalysed urgent conversations about the future of thermal coal in public forums and private board rooms. Banks and investors across the world are reducing their exposure to thermal coal as a result of this campaign."
Several companies have pulled support for Carmichael citing wider environmental concerns around coal and as such do not lend support to any coal projects, but it has generally been the opposition to Adani that has driven these changes of policy. Insurance company Allianz "no longer offers single-site/stand-alone insurance coverages related to the construction and/or operation of lignite/coal-fired power plants and mines where lignite/coal is extracted", the firm announced in April 2020.
Global banks including Goldman Sachs, HSBC, JPMorgan Chase and more have ruled out financing coal projects with specific references to Adani Mining's activities.
The #StopAdani campaign has been creative in its methods of protest, organising marches and demonstrations against specific companies associated with the Carmichael project, as well as using social media to great effect, both in raising awareness of anti-Adani campaigns as well as directing social media centred protests at Adani and its associated companies. #StopAdani is not a centralised movement, and comprises thousands of individual activists and community groups across Australia, giving the movement a degree of versatility that has so far made it difficult for corporations like Adani to effectively counter.